news releases





PDF Download(PDF Type, 12Kbyte)


May 14, 2004

Hitachi Sells Shares of ShinMaywa Industries


Tokyo, May 14, 2004 --- Hitachi, Ltd. (TSE:6501/ NYSE:HIT) today announced it has sold shares of ShinMaywa Industries, Ltd.(TSE:7224).
As a result of the sale, ShinMaywa is no longer an equity-method affiliate of Hitachi.



1. Sales of shares
(1)
Number of shares sold
15,000,000 shares owned by Hitachi.
Following the sales, Hitachi owns 9,000,337 shares, which represent approximately 7.5% of the Issued and Outstanding shares of ShinMaywa.
(2)
Aggregate proceeds of the sale
Approximately 6 billion yen
(3)
Method of the sale
Sold through ToSTNeT-2 on the Tokyo Stock Exchange
(4)
Date of the sale
May 14, 2004
2. Impact on operating performance
The sale of shares doesn't have a significant impact on the operating results of Hitachi for the fiscal year ending March 31, 2005.
About Hitachi, Ltd.
Hitachi, Ltd. (TSE:6501/ NYSE:HIT), headquartered in Tokyo, Japan, is a leading global electronics company, with approximately 326,000 employees worldwide. Fiscal 2003 (ended March 31, 2004) consolidated sales totaled 8,632.4 billion yen ($81.4 billion). The company offers a wide range of systems, products and services in market sectors, including information systems, electronic devices, power and industrial systems, consumer products, materials and financial services. For more information on Hitachi, please visit the company's Web site at http://www.hitachi.com.

Information contained in this news release is current as of the date of the press announcement, but may be subject to change without prior notice.

| | |
| --- | --- |
| | PDF files are in Adobe's Portable Document Format. To view them you need Adobe® Reader® 6.0 by Adobe Systems Incorporated. If you are using Adobe Acrobat® 5.x software, you will need to download Asian font packs. |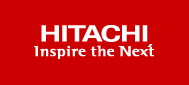 Listed by release date