Tokyo, Japan, March 28, 2002 -- Hitachi, Ltd. (TSE:6501, NYSE:HIT, Hitachi) and Hitachi Electronics Engineering Co., Ltd. (TSE:6873, Hitachi Electronics Engineering) today announced that, in accordance with decisions taken by their respective boards of directors, Hitachi Electronics Engineering, a subsidiary of Hitachi that is listed on the Tokyo Stock Exchange, will become a wholly-owned subsidiary of Hitachi through share exchange. It was also decided that Hitachi Electronics Engineering will issue new shares to Hitachi.

Officially, the share-exchange agreement will be concluded in late May 2002, and, upon being approved at the Hitachi Electronics Engineering's ordinary general meeting of shareholders, which is scheduled to take place in late June, the share exchange is expected to take place on October 1, 2002. The issuance of new shares assumes validity in compliance with the stipulations of the Securities Exchange Law of Japan.

Hitachi Electronics Engineering as a wholly-owned subsidiary
1. Gist of agreement
The Hitachi Group aims to be a global supplier able to provide comprehensive solutions through information system services and social infrastructure systems equipped with "IT and knowledge", and the key hardware, software, and high-functional materials that underpin such services and systems. In accordance with this policy, Hitachi is speeding up the business realignment of the Hitachi Group and building an optimized operations system by fusing together and utilizing the Group's knowledge, experience, technology and other resources.
These consolidated management measures spurred the move to make Hitachi Electronics Engineering a wholly-owned subsidiary. The move will make it possible for Hitachi Electronics Engineering to further promote the restructuring it is currently engaged in, and will also make it possible to realize further synergies within the Hitachi Group by organically fusing Hitachi Electronics Engineering's advanced technologies, which include optical measurement technology and LCD manufacturing inspection technology, promoting the development of the nanotechnology business that is a major focus of the Hitachi Group.

Hitachi Electronics Engineering is engaged in the development and marketing of manufacturing and inspection equipment for magnetic disks, LCDs and semiconductors. In March 1998, it was listed on the Second Section of the Tokyo Stock Exchange. Recently, however, the company's business has been affected by the global IT recession. On March 1, 2002, this led the company to issue a downward revision of its result forecast for the year ending March 31, 2002. This was accompanied by the announcement of emergency management measures that are being implemented to return Hitachi Electronics Engineering to profitability by rebuilding the company's business by concentrating resources on core operations, carrying out an extensive reappraisal of its business division system, and decreasing fixed costs by reducing the number of employees.

The manufacturing and inspection equipment for LCDs and semiconductors is a market sector in which technology is becoming increasingly advanced and cost competition is likely to intensify on a global scale. Making Hitachi Electronics Engineering a wholly-owned subsidiary will enable businesses in which Hitachi Electronics Engineering is competitive, such as optical measurement equipment and flat-panel display equipment, including LCDs, to be expanded as the key hardware business of the Hitachi Group. This will allow the management resources to be more flexibly re-allocated for future needs.

2. Share Exchange Terms and Conditions
(1) Schedule (provisional)

March 28, 2002
Board of directors approves memorandum of understanding for share-exchange


March 28, 2002
Signing of memorandum of understanding for share-exchange


Late May, 2002
Board of directors to approve share-exchange agreement


Late May, 2002
Signing of share-exchange agreement


Late June, 2002
Shareholder approval of share-exchange agreement
(ordinary general meeting of shareholders of Hitachi Electronics Engineering)


September 25, 2002
Delisting of Hitachi Electronics Engineering Co., Ltd. from Tokyo Stock Exchange


September 30, 2002
Deadline for the submission of Hitachi Electronics Engineering share certificates by shareholders


October 1, 2002
Exchange of shares


| | |
| --- | --- |
| | In accordance with the provisions of Paragraph 1 of Article 358 of the Commercial Code of Japan, Hitachi does not plan to submit the share-exchange agreement for approval at Hitachi's ordinary general meeting of shareholders. |

(2) Ratio of Share Exchange
Hitachi and Hitachi Electronics Engineering requested Nomura Corporate Advisors Co., Ltd. (Nomura Corporate Advisors) to calculate the ratio for the exchange of shares. The results of these calculations were referred to in discussions between the two companies, which agreed to the ratio shown below.
The following ratio may be subject to change following discussions between the parties in the event that there should arise any significant change in the terms and conditions used to arrive at the ratio.


Company
Hitachi
Hitachi Electronics
Engineering
Share exchange ratio
1
0.5
Notes:
a)
Share allocation ratio:
There will be an allocation of 0.5 shares of Hitachi stock per share of Hitachi Electronics Engineering stock. However, there will be no allocation of shares with respect to Hitachi Electronics Engineering stock held by Hitachi.


b)
Result, method and basis of calculation by third-party institution:
Nomura Corporate Advisors used the market price analysis and the discounted cash flow (DCF) method to evaluate Hitachi and Hitachi Electronics Engineering. The results were used as a basis for calculating the share-exchange ratio.


c)
Number of Hitachi shares to be issued for the exchange:
4,500,000 ordinary shares


d)
Date from which the dividend on the new shares will be calculated:
October 1, 2002


e)
Hitachi may substitute its treasury stock for a portion of Hitachi's shares to be issued for the exchanges.


3. Outline of Each Company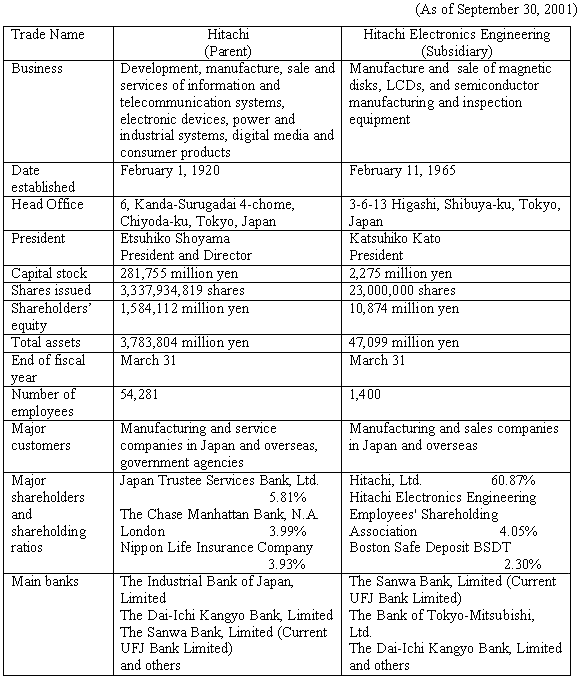 Note: As of February 28, 2002, Hitachi's capital amounted to 281,763 million yen, and common stock issued amounted to 3,337,949,635 shares.
4. Change of the president of Hitachi Electronics Engineering
Mr. Katsuhiko Kato, currently president of Hitachi Electronics Engineering, will step down and Mr. Kunio Hasegawa, currently senior vice president and director of Hitachi, will become president.
(Mr. Hasegawa will assume the presidency following the approval of the board of directors at a meeting convened following the ordinary general meeting of the shareholders of Hitachi Electronics Engineering in late June.)

5. Financial Results (for the most recent three years)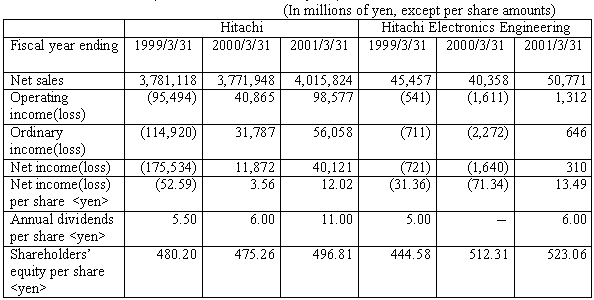 6. Changes after share exchanges
(1) Trade name, business, head-office location :
No changes are planned following the exchange of shares.

(2) Capital and Capital Reserve:
It has not been decided whether there will be increase in Hitachi's capital and capital reserve.
(3) Effect on Hitachi's Consolidated Results:
Because Hitachi Electronics Engineering is already a consolidated Hitachi subsidiary, the share-exchange transaction is not expected to have a material impact on Hitachi's consolidated results.
Issuance of new shares of Hitachi Electronics Engineering to Hitachi
1. Objective
Hitachi Electronics Engineering's area of business, which is focused on equipment used for performing optical measurements and LCD manufacturing and inspection, is one that is a priority for the Hitachi Group. Hitachi Electronics Engineering is an important subsidiary that possesses leading-edge technology. Hitachi Electronics Engineering will use the capital generated by issuance of new shares to Hitachi, amounting to about 3,500 million yen, to complete its current restructuring program.
2. Outline of share issue

(1) Issuance of new shares
1.
Number of new shares being issued: 7,415,000 ordinary shares
| | | | |
| --- | --- | --- | --- |
| | 2. | Issue price: | 472 yen per share |
| | 3. | Total: | 3,499,880,000 yen |
| | 4. | Closing date: | Tuesday April 16, 2002 |



(2) Method of determining issue price
The issue price has been set at 472 yen based on the average closing price (490.86 yen) of Hitachi Electronics Engineering shares on the Second Section of the Tokyo Stock Exchange over the 14-day trading period from March 4, 2002 to March 22, 2002.



(3) Application of funds
To be used to fund Hitachi Electronics Engineering's restructuring program.
3. Increase in Hitachi Electronics Engineering's capital

(1) Issued shares of stock
1. Prior to capital increase:
23,000,000 shares
2. Following capital increase:
30,415,000 shares
(2) Shares held by Hitachi, and percentage of holdings
1. Prior to underwriting issue:
14,000,000 shares (60.87%)
2. After underwriting issue:
21,415,000 shares (70.41%)
(3) Capital and Capital Reserve
1.
Capital prior to increase:
2,275 million yen
Capital reserve prior to increase:
2,325 million yen
2.
Capital following increase:
4,024 million yen
Capital reserve following increase:
4,074 million yen