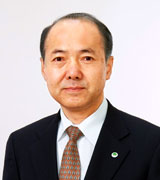 Ever since Hitachi, Ltd. was established in 1910, Hitachi Power Systems Company has expanded its business fields from power transmission/distribution systems to hydroelectric power plants and thermal/nuclear power generation systems, and then new forms of energy, including wind and solar power, thereby growing to reach its present state alongside the progress made in society.
In the global market, demand for electric energy is expected to continue growing, mainly in such emerging markets as India, China, South America and Africa. Facing this major industry shift, we at the Power Systems Company are further committed to establishing forms of global collaboration such as nuclear power generation systems with GE, hydraulic power generation systems with Mitsubishi Heavy Industries, Ltd. and Mitsubishi Electric Corporation, as well as thermal power generation systems with Mitsubishi Heavy Industries, Ltd. We are also continuously responding to diversifying global demand for electric power generation with our cutting-edge technologies and products.
The requirements for the following technologies are expected to increase in Europe, North America and worldwide: clean electric power energy that helps mitigate global warming, new electric power distribution system technologies for efficient distribution of electric power, and technologies of monitoring/advanced maintenance of plants. Here too, we proactively address our customers' issues, and strive to deliver state-of-the-art technologies and proposals to solve them.
We will proceed by expanding our production, procurement and servicing bases, and establishing a global value chain. Utilizing our experience and world-class technologies accumulated to date; we will respond to a range of needs from each global society and walk hand in hand with you.
We highly appreciate your continued support.