News releases





PDF Download(PDF Type, 76Kbyte)


June 9, 2005

Hitachi Sues Taiwanese Monitor Manufactures for Patent Infringement


San Francisco, US, June 8, 2005 --- Hitachi, Ltd. (NYSE:HIT/TSE:6501) today announced that it has filed suit against 3 major Taiwanese monitor manufacturers "Amtran Technology Co.,Ltd., Proview Electronics Co.,Ltd. and Tatung Co." together with their related companies "Proview Electronics International Holdings Ltd., Proview Technology, Inc. and Tatung Co. of America, Inc.", on June 6, 2005 in US District Court of Northern California.

For well more than a year Hitachi has been discussing the possible patent license agreement with these manufacturers without success. In view of the fairness with those companies who already obtained license from Hitachi, Hitachi has no choice but to initiate litigation.

According to the complaint, these manufacturers produce and market PC monitor without having entered into license agreement with Hitachi.

The suit seeks, among other things, monetary damages and an injunction prohibiting these manufacturers from using Hitachi's patents in their products and from offering, marketing, or importing them.




About Hitachi, Ltd.
Hitachi, Ltd., (NYSE: HIT/ TSE: 6501), headquartered in Tokyo, Japan, is a leading global electronics company with approximately 347,000 employees worldwide. Fiscal 2004 (ended March 31, 2005) consolidated sales totaled 9,027.0 billion yen ($84.4 billion). The company offers a wide range of systems, products and services in market sectors including information systems, electronic devices, power and industrial systems, consumer products, materials and financial services. For more information on Hitachi, please visit the company's website at http://www.hitachi.com.






Information contained in this news release is current as of the date of the press announcement, but may be subject to change without prior notice.

| | |
| --- | --- |
| | PDF files are in Adobe's Portable Document Format. To view them you need Adobe(R) Reader(R) by Adobe Systems Incorporated. |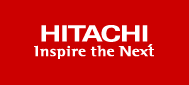 Listed by release date