Information contained in this news release is current as of the date of the press announcement, but may be subject to change without prior notice.
Physical Access Systems by Finger Vein Authentication
Launched in China
- Ensuring Construction of Large-scale Secure Systems
by Combining with HID Card -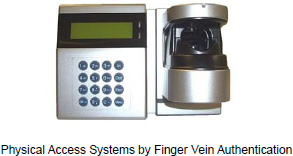 TOKYO, Japan, October 15, 2007, -- Hitachi, Ltd. (NYSE:HIT / TSE:6501) today announced that it will begin the sale of its door access control system by finger vein authentication in Asia starting in October as the first step of its global sales.
With the product manufactured by Hitachi Information & Control Solutions, Ltd. authentication terminals connected to networks can be managed by management server software. By adding authentication terminals, scalable system construction can be achieved. Also, globally pervasive IC card iCLASS card from HID (HID Global Corporation: Headquarters: The United States California state: President and CEO Denis Hébert )can be incorporated, which enables construction of highly secure systems by combining finger vein and the HID card.
Following several years of research and development of the finger vein pattern recognition technology at the Hitachi Ltd., Central Research Institute in 1997, the company received a substantial number of patents. Hitachi has now commercialized the operating system and various applications, including PC login devices and validation devices for ATMs in Japan. The validation device for ATMs is fast becoming a de facto standard, with about 80 percent of the financial institutions in Japan adopting finger vein biometrics by of the end of March 2007 - based on an independent ATM market analysis on the banking sector.
As adoption levels of finger vein pattern recognition increases in Japan, the level of interest in other markets is also increasing. To date, Hitachi is experiencing sales increases of the physical access device in China. In addition, growth potential is expected in Asia, the United States and Europe, particularly for physical access control and related applications. Hitachi recently installed a system at the Shinkin Central Bank, New York branch.
Hitachi developed the PC login device based on the original model designed for the Japanese market and has been sold in Japan since October 2006. The finger vein unit achieved its small size, high accuracy rate by employing a single-chip LSI design. In addition, an SDK is available to allow for development of custom applications or integration into existing application environments.
Hitachi is increasingly focusing its businesses on creating solutions to answer various market trends aiming at the achievement of a safe, comfortable, ubiquitous information society, exemplified by making finger vein technology the de facto standard for high-security biometrics.
Notes to the editor
Sales target - 3,000 units for the door access control field in the first year.
Feature and mechanism of finger vein authentication system - The finger vein pattern recognition technology employs the vein pattern of the finger as the biometric feature. The finger vein pattern is impossible to counterfeit because the vein is inside the body. With some of the existing biometric systems, it is possible to acquire biometric data without the knowledge of the individual [e.g. finger-print, facial recognition, iris-scan etc.]. It is not possible to acquire the finger vein biometric feature without the knowing consent of the individual meaning that from a societal aspect, finger vein pattern recognition is safe and secure for the individual. In operation, the process of data collection is based on a contact-less principle. Light penetrates through the finger using a light-transmission technique to allow the detection of the structure of the vein pattern. The vein pattern is image-processed using a special algorithm resulting in digital data that can be stored in a relevant data repository. The device is compact and can be applied in a variety of ways including for car entry, personal authentication, PC login, and validation for ATM machines.
About Hitachi
Hitachi, Ltd., (NYSE: HIT / TSE: 6501), headquartered in Tokyo, Japan, is a leading global electronics company with approximately 384,000 employees worldwide. Fiscal 2006 (ended March 31, 2007) consolidated revenues totaled 10,247 billion yen ($86.8 billion). The company offers a wide range of systems, products and services in market sectors including information systems, electronic devices, power and industrial systems, consumer products, materials and financial services. For more information on Hitachi, please visit the company's website at http://www.hitachi.com.
Note for Trademarks
Company names and product names mentioned herein are trademarks or registered trademarks of their respective companies.
Website