Information contained in this news release is current as of the date of the press announcement, but may be subject to change without prior notice.
IN BANK ZACHODNI WBK YOU WILL BE ABLE TO SIGN BANK
ACCOUNT AGREEMENTS WITH YOUR FINGER
Bank Zachodni WBK has introduced on a pilot basis, a biometric signature solution using Hitachi Finger Vein biometrics to their branch network. Since April this year, customers of Bank Zachodni WBK in Lubin and since June in selected branches in Warsaw, can authenticate and sign personal account agreements using just their finger.
The purpose of the introduction of Finger Vein biometric technology in Bank Zachodni WBK is to increase the safety and speed of branch transactions, the convenience of access to banking services, and essentially to limit paper documentation in the bank. "The new solution can contribute to a reduction of 80% of paper documents and at the same time increase the convenience for our customers. Security is also a very important aspect, which continues to play a key role for us during the selection of new technologies. Hitachi's Finger Vein biometrics technology has been selected to help us reach this target." - said Paweł Wieczorek, Member of the Board, CTO in Bank Zachodni WBK.
Hitachi's Finger Vein solution has already been implemented, on a pilot basis, in branches of Bank Zachodni WBK in Lubin city (Lower Silesian region). By using the Finger Vein reader and touch-screen monitor, customers can authenticate and sign personal account agreements with the bank by their finger. Documents signed electronically will be automatically sent to their e-mail address. "Hitachi's Finger Vein implementation in Bank Zachodni WBK has a strategic meaning for the development of biometrics in Poland and Europe. We are looking forward to a long and fruitful cooperation with Bank Zachodni WBK and Santander Group." - said Tadeusz Woszczyński, Regional Director for Central Eastern Europe of Information Systems Group in Hitachi Europe Ltd.
Biometrics is a form of technology used to authenticate an individual based on physical or behavioural features, such as iris, fingerprint, voice or veins patterns, etc. Bank Zachodni WBK has chosen Finger Vein biometrics which is based on unique patterns of veins inside the human finger. This technology has been proven in banking globally and at the same time provides the highest level of security and privacy for bank customers. Hitachi's Finger Vein biometrics has an 80% market share of the biometrics used in the banking sector in Japan, while in Poland it has been used successfully in the banking sector since 2010.
The main applications of Finger Vein include authentication of branch transactions, card-less withdrawals from the ATMs, electronic document signing and authorization of online banking operations.
Following a successful pilot project, the bank plans to implement Hitachi's Finger Vein technology in all branches. Currently, the bank is also considering a pilot in its other channels, i.e. ATMs and online banking services (for corporate customers).
The collaboration of Hitachi and Bank Zachodni WBK is an example of Hitachi's focus on its Social Innovation Business - improving society by delivering innovations through solutions which combine products, services and highly sophisticated IT.
Details of the BZWBK offer are available at www.bzwbk.pl. Valid for 21.05.2015.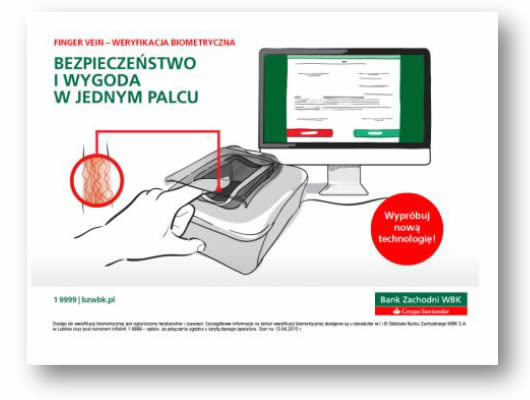 About Bank Zachodni WBK:
Bank Zachodni WBK is the third power of the banking sector in Poland. It owes the ever-growing robustness of its position to the dynamic development, excellent products, innovation, brand development and pursuit of perfection in the relationship with customers.
Member of the Santander Group which serves over 100 million customers in 14 thousand branches in 30 countries. Thanks to the markets diversity it is one of the world's largest financial groups and the largest financial institution of the euro zone.
About Hitachi Europe Ltd.
Hitachi Europe Ltd., a subsidiary of Hitachi, Ltd., is headquartered in Maidenhead, UK. The company is focused on its Social Innovation Business - delivering innovations that answer society's challenges. Hitachi Europe and its subsidiary companies offers a broad range of information & telecommunication systems; rail systems, power and industrial systems; industrial components & equipment; automotive systems, financial services; digital media & consumer products and others with operations and research & development Laboratories across EMEA. For more information, visit http://www.hitachi.eu.