Information contained in this news release is current as of the date of the press announcement, but may be subject to change without prior notice.
Strengthening Business Structure to Expand
Social Innovation Business Using Digital Technologies
Tokyo, February 1, 2017 --- Hitachi, Ltd. (TSE:6501, "Hitachi") today announced that it will strengthen business structure in order to achieve further growth through the global rollout of Social Innovation Business using digital technologies.
1. Strengthening uniform operations in specific Business Units (as of April 1)
Hitachi introduced a market-in business structure composed of "front," "platform," and "products" in April 2016, and has strengthened the earnings base, including the review of unprofitable businesses and structural reforms, by operating its businesses unit by unit. Since Hitachi has seen certain results in establishing the earnings base, it will assign Executive Vice President and Executive Officers responsible for four strategic fields, in order to plan and execute growth strategies from broader viewpoints, toward accelerating further growth starting in FY2017. The Executive Vice President and Executive Officers will each lead the expansion and growth efforts for their responsible fields and businesses, as well as generate synergies in each area to accelerate development of Social Innovation Business using digital technologies.
In addition, Smart Life & Ecofriendly Systems and Automotive Systems businesses will be positioned in the "Urban" field. Utilizing IoT, these two businesses will generate synergies with Building Systems, Railway Systems, and Urban Solutions, to create new value in the field.
Description of four fields
EVP in charge
Fields
BUs and businesses
1
Koji Tanaka
Power and Energy
Nuclear Energy BU, Power BU,
and Energy Solutions BU
2
Masakazu
Aoki
Industry,
Distribution and Water
Industry & Distribution BU, Water BU,
and Industrial Products BU
3
Toshikazu
Nishino
Urban
Building Systems BU, Railway Systems BU,
Urban Solutions BU,
Smart Life & Ecofriendly Systems Business, and
Automotive Systems Business
4
Keiichi
Shiotsuka
Finance, Public and Healthcare
Financial Institutions BU,
Government, Public Corporation & Social
Infrastructure Systems BU, Healthcare BU,
Defense Systems BU, and Services & Platforms BU
2. Accelerating the global development of Social Innovation Business utilizing "Lumada"
(1) Strengthen Global Business Base (as of April 1)
Mr. Hicham Abdessamad, CEO of Hitachi Consulting Corporation, will be promoted to undertake an additional role as Deputy General Manager of the Social Innovation Business Division. In this new role, Hicham will lead Social Innovation Business across the Americas, Asia/Pacific, and Europe / Russia / Middle East and other areas ("EMEA/CIS"). He will lead the acceleration of Social Innovation Business using digital technologies by expanding use cases of Hitachi's IoT Platform "Lumada" globally. At the same time, Mr. Yoshitaka Tsuda, Senior Vice President and Executive Officer of Hitachi, Ltd., will be appointed General Manager of the Social Innovation Business Division, and Mr. Kenichi Kokubo, Vice President and Executive Officer, Chief Executive for China Hitachi Group, will continue to lead business development in China.
(2) Appointment of Chief Lumada Officers (as of February 1)
In order to accelerate the global rollout of the IoT platform "Lumada," a Chief Lumada Officer will be appointed in each BU to create Lumada use cases and expand the solution business in collaboration with other BUs.
3. Strengthening investment strategies for the next stage of growth (as of April 1)
As part of our efforts to achieve the goals laid out in the 2018 Mid-term Management Plan and further growth, two new divisions will be established. The first will be the "Investment Strategy Division," responsible for planning investment strategy in order to establish an optimum asset allocation for the Hitachi Group. The mission of this division includes an ideal allocation of investment funds and determination of the best structure of the balance sheet to globally develop Social Innovation Business. The second will be the "Future Investment Division," with a mission to formulate medium-to-long term focus fields and supervise projects, capturing the trend of next-generation technologies such as robotics, AI, and connected mobility, as well as changes in the world at large.
Business Structure (as of April 1, 2017)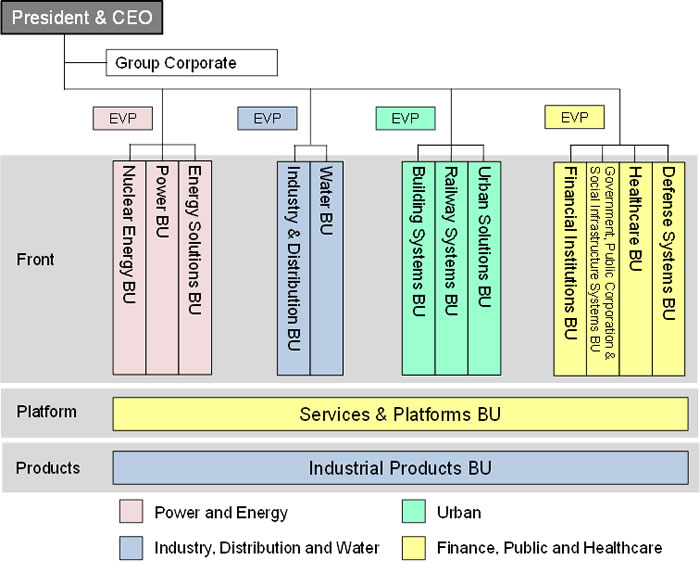 About Hitachi, Ltd.
Hitachi, Ltd. (TSE: 6501), headquartered in Tokyo, Japan, delivers innovations that answer society's challenges. The company's consolidated revenues for fiscal 2015 (ended March 31, 2016) totaled 10,034.3 billion yen ($88.8 billion). The Hitachi Group is a global leader in the Social Innovation Business, and it has approximately 335,000 employees worldwide. Through collaborative creation, Hitachi is providing solutions to customers in a broad range of sectors, including Power / Energy, Industry / Distribution / Water, Urban Development, and Finance / Government & Public / Healthcare. For more information on Hitachi, please visit the company's website at http://www.hitachi.com.