The JP1 for IoT services support the stable operation of various types of IoT devices, as well as the implementation of security measures for such devices.
Maintain your devices in a constantly healthy state
IoT devices have become an indispensable part of the key infrastructure that sustains our society.
These devices are essential tools that support our lifestyles by compensating for labor shortages, detecting critical events on behalf of human workers, and providing new services for society.
Why do we need to manage the operation of IoT devices?
IoT devices are found everywhere these days. But why do we need to manage them in the first place?
If IoT devices are not properly maintained and managed in a healthy condition, the reliability of important data collected by these IoT devices will be compromised. If the security of IoT devices is not properly maintained, such devices might be used as an entry point for hacking or for springboard attacks, which can cause damage to computer systems in your organization and in other organizations as well.
Now is the time to reexamine the management of IoT device operations.
JP1 for IoT
JP1 for IoT manages the operation of IoT devices and provides functions to keep your IoT devices healthy.
As the use of IoT expands into various fields, a new age of digital transformation* has begun.
At the same time, companies are facing new challenges such as the inability to collect data as a result of the improper implementation of IoT and the risk of data tampering as a result of cyberattacks. For safe, lasting digital transformation, the stable operation of IoT devices after their installation and the implementation of security measures for such devices is essential. Hitachi's JP1 for IoT services help you appropriately manage the IoT devices that support digital transformation, thereby accelerating your business.
* Digital transformation refers to transformation through the use of digital technologies and is sometimes abbreviated as "DX."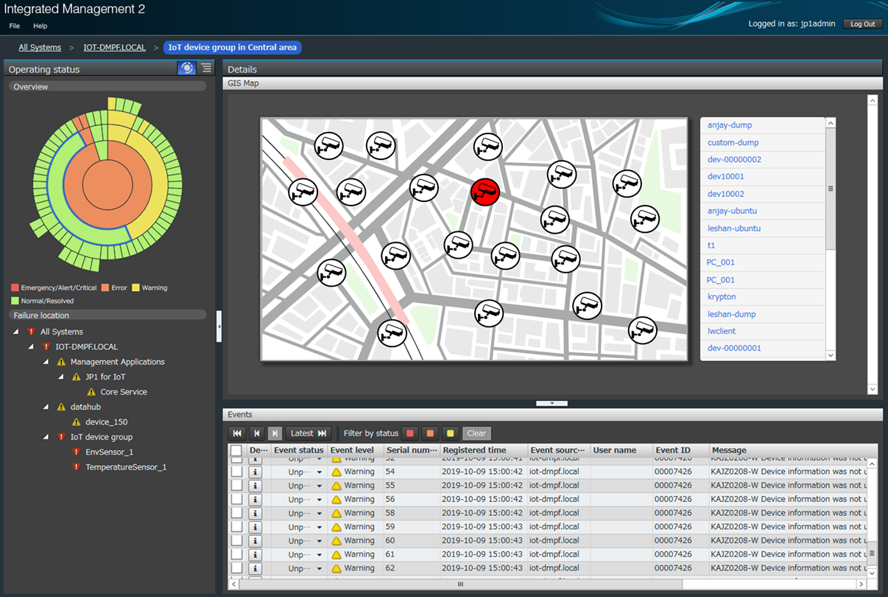 Monitoring that incorporates Hitachi's expertise in managing IT systems
Visualization of operating statuses
JP1 for IoT helps manage your IoT devices in an integrated manner by applying Hitachi's expertise, cultivated through our work with JP1. You can centrally manage your various IoT devices and even automate the handling of failures by defining the automatic actions to be executed when a failure is detected.
Relief from security concerns
Effective and reliable security measures
JP1 for IoT mitigates security risks by allowing you to update firmware and change parameters for your IoT devices in batch operations.
Support for continuous digital transformation
Stable operation of IoT devices
JP1 for IoT facilitates continuous digital transformation by supporting the stable operation of the IoT devices that generate the data that forms the base for your businesses.
Services
Services
Service
Description
JP1 for IoT - Device Management
This service supports the stable operation of various types of IoT devices, as well as the implementation of security measures for such devices.
JP1 for IoT - Professional Service
This service helps you build a service environment and customize the environment to fit your requirements.
Prior to the start of operations, you can also verify and evaluate the benefits of applying the service.
JP1 for IoT - Continuous Improvement Service
For customized service environments, this service provides continued support even after the start of operations. This support can be in the form of response to inquiries, assistance in resolving problems, or the provision of information.