Information contained in this news release is current as of the date of the press announcement, but may be subject to change without prior notice.
Hitachi Power Semiconductor Devices, Ltd. has developed highly
durable/low-loss 1.7kV Full-SiC module that reduces switching loss by
about 30% compared to existing products
Supporting high efficiency in social infrastructure such as
Traction and Renewable Energy Power Generation System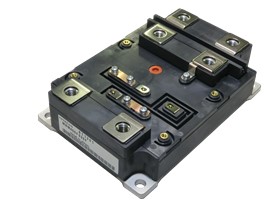 Developed 1.7kV Full-SiC Module
Tokyo, December 21, 2021 – Hitachi Power Semiconductor Devices, Ltd. (HPSD) has developed highly durable three new products of 1.7kV Full-SiC Module*1 with low-loss property, realizing 30% reduction of switching loss of the existing products which already indicate, thanks to Cu-sintering*2 die-bonding technology, three times more power-cycling durability*3 than the modules with conventional solder die-bonding technology. The samples are planned to be available as of January 2022. Through providing these products to Traction, and Renewable Energy Power Generation Systems, HPSD supports to improve the energy efficiency of highly reliable social infrastructure, and thus contributes to realizing Carbon-Free Society.
*1

A packaged product that accommodates combination of next-generation semiconductor material (SiC) devices

*2

Die-bonding technology that uses Nano-level Cu grains to have robust bonding under the temperature comparable to the one used for conventional solder die-bonding.

*3

Durability against the repeating cycles of die temperature up and down.
With the expectation of growing energy demand, the power semiconductor devices used for variety of social infrastructures are the products required more energy efficiency for realizing Carbon-Free Society. Among them, SiC power devices are relatively easy to get low-loss property due to its better electrical breakdown strength than Silicon devices, and therefore they are suitable for reducing the power consumption of electric power converters.
Since the release of Full-SiC Module in 2018, HPSD has supplied Full-SiC modules to Japan's domestic Traction market. In 2019, HPSD began to provide the Full-SiC module products which adopt Cu-sintering technology for attaching SiC dies with Cu electrode to have better power-cycling durability which turns out to be three times more than the modules adopting conventional solder die-bonding technology. This time, based on this Cu-sintering Full-SiC module technology, it adopts the newly designed low temperature coefficient gate-resister to successfully reduce the loss accompanying on/off switching operation of SiC devices by 30% compared with existing products. HPSD will supply this new Full-SiC modules to not only Traction Invertors, but also the power converters of Renewable Energy Power Generation Systems.
HPSD has supplied its power electronics products to mainly Traction, and EV so far, but is accelerating its development activities for broad range of social infrastructures such as Electric Power Systems, and Data Centers toward the realization of Carbon-Free Society. The company will strive for realizing Carbon-Free Society by developing and delivering the power semiconductor devices that help cut down the power consumption, and CO2 emission of social infrastructures.
Specifications of developed products
Type name
Voltage
ratings
Current
ratings
Tjmax
Size
Sample Shipment
MSM900GS17CLT
1.7kV
900A
175℃
100mm x
140mm
Planned to start from Jan. 2022
MSM1350GS17CLT
1,350A
MSM1800GS17CLT
1,800A
About Hitachi Power Semiconductor Devices, Ltd.
HPSD with its long history/achievement of power semiconductor product development combined with its cutting-edge device technology keeps contributing to the growing business of social innovation. It has three main product categories that are 'IGBT/SiC', 'High Voltage IC' and 'Diodes'. It is our commitment to develop high environmental value products utilizing our high-voltage, and low-loss technology. For more details, please visit our website at https://www.hitachi-power-semiconductor-device.co.jp/en/index.html.
About Hitachi, Ltd.
Hitachi, Ltd. (TSE: 6501), headquartered in Tokyo, Japan, contributes to a sustainable society with a higher quality of life by driving innovation through data and technology as the Social Innovation Business. Hitachi is focused on strengthening its contribution to the Environment, the Resilience of business and social infrastructure as well as comprehensive programs to enhance Security & Safety. Hitachi resolves the issues faced by customers and society across six domains: IT, Energy, Mobility, Industry, Smart Life and Automotive Systems through its proprietary Lumada solutions. The company's consolidated revenues for fiscal year 2020 (ended March 31, 2021) totaled 8,729.1 billion yen ($78.6 billion), with 871 consolidated subsidiaries and approximately 350,000 employees worldwide. For more information on Hitachi, please visit the company's website at https://www.hitachi.com.
Contact
Hitachi Power Semiconductor Device, Ltd.