Information contained in this news release is current as of the date of the press announcement, but may be subject to change without prior notice.
Hitachi Receives Orders for 160 Elevators, Escalators, Moving Sidewalks and Related Systems for the Hong Kong West Kowloon Station Complex
Hitachi Group's Largest Order for Elevators and Escalators in Hong Kong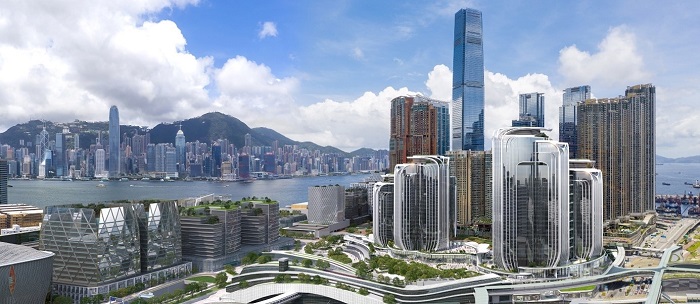 External view of the West Kowloon Station complex in Hong Kong
(in the right foreground of the photograph)
Hong Kong, China, June 28,2023 – Hitachi, Ltd. (TSE: 6501, "Hitachi"), today announced that Hitachi Elevator Engineering Company (Hong Kong) Limited ("Hitachi Elevator Engineering (Hong Kong)"), a sales and service company for the elevators and escalators of Hitachi, which operates in the Hong Kong Special Administrative Region ("Hong Kong") of the People's Republic of China ("China"), have received an order for total 160 elevators, escalators and moving side walks from a Hong Kong developer, Sun Hung Kai Properties Limited for the Hong Kong West Kowloon Station complex. The station is a terminus of the Guangzhou–Shenzhen–Hong Kong High Speed Rail Link. The order consists of 115 elevators including 22 high-speed elevators with a rated speed of 300 m/min, 41 escalators, four moving sidewalks, a destination floor reservation system and FI-700 elevator management system that ensure efficient elevator operations. The units are to be manufactured by Hitachi Elevator (China) Co., Ltd., a manufacturing, sales, and service company in China, and are scheduled for delivery by December, 2024. This is the largest order for Hitachi group's elevators and escalators in Hong Kong.
Outline of Hong Kong West Kowloon Station
Hong Kong West Kowloon Station opened in 2018 as a terminus for the Guangzhou–Shenzhen–Hong Kong High Speed Rail Link, which connects Hong Kong with cities in mainland China. It is located in the West Kowloon Cultural District, a redevelopment area which hosts a collection of art and cultural facilities such as art galleries, museums, and theaters. It also boasts excellent access to Hong Kong International Airport and the Hong Kong urban district, which is located in a large-scale development area directly connected to West Kowloon Station in Hong Kong. It consists of an office of approximately 240,000 square meters, a commercial facility of approximately 55,000 square meters, and outdoor facilities. The complex is scheduled to be completed in 2025.
Hitachi's Elevators and Escalators Business in Hong Kong
In 1966, Hitachi established Hitachi Elevator Engineering (Hong Kong) as its first overseas group company in the building systems business. Later in 1980, Hitachi opened a branch in the Macao Special Administrative Region ("Macao"). In 2007, Hitachi delivered 40 elevators to the Venetian® Macao Resort Hotel, one of the largest commercial complexes in Asia. Hitachi's operations in Hong Kong and Macao have included sales, installation, maintenance, and modernization of its elevators and escalators.
Outline of Elevator Specifications Ordered
Outline of Escalator Specifications Ordered
Outline of Moving Sidewalk Specifications Ordered
Related Links
About Hitachi, Ltd.
Hitachi drives Social Innovation Business, creating a sustainable society through the use of data and technology. We solve customers' and society's challenges with Lumada solutions leveraging IT, OT (Operational Technology) and products. Hitachi operates under the business structure of "Digital Systems & Services" - supporting our customers' digital transformation; "Green Energy & Mobility" - contributing to a decarbonized society through energy and railway systems, and "Connective Industries" - connecting products through digital technology to provide solutions in various industries. Driven by Digital, Green, and Innovation, we aim for growth through co-creation with our customers. The company's consolidated revenues for fiscal year 2022 (ended March 31, 2023) totaled 10,881.1 billion yen, with 696 consolidated subsidiaries and approximately 320,000 employees worldwide. For more information on Hitachi, please visit the company's website at https://www.hitachi.com.