Throughout Hitachi's 90-year history of elevator development, we have remained at the forefront in elevator development capabilities, always looking to the future in order to realize cities of high-rise buildings and of high functionality. We would like to take this opportunity to introduce our technological progress and our efforts aimed at ensuring safety, security and comfort.
The Technological Development of Hitachi Elevators
Looking to the future, our research and development efforts have remained focused on the creation of safety, security and comfort. With Mito Works as our global mother base, we concentrate on conducting precise simulations and operational tests using actual machines on a daily basis at our G1TOWER, the world's highest-class elevator research tower. The advanced technology developed through these efforts is used in our production of elevators in order to provide customers with even higher levels of safety, security and comfort.

1260 m/min: approximately 3 minutes to the mountaintop of Mt. Fuji.
This image is used to express the speed of 1,260 m per minute and may differ somewhat from actual results.
The Technology That Supports 1,260 m/min
We providing new value for people, building systems, and society―――Hitachi's ultra-high speed elevator, which has been delivered to Guangzhou CTF Finance Centre, a skyscraper complex building in Guangzhou, China, achieved a world record-breaking* speed of 1,260 m/min (75.6km/h). This elevator connects the ground floor to the hotel lobby on the 95th floor in approx. 42 seconds, over a distance of 440 meters.  The technology attained from the development of this ultra-high speed elevator will be applied in a bottom-up approach to all Hitachi elevators. In doing so, Hitachi will produce elevators.
Developing the World's Fastest Elevator
In ultra-high-speed elevators, various problems emerge which were not issues before, such as vibration and noise caused by air resistance and tiny bumps in guide rails. Let's take a look at how Hitachi divided these issues into the three themes of drive performance, safety, and comfort, and developed technologies to achieve the world's fastest speeds.
Hitachi Group Synergy
The Hitachi Group operates numerous businesses which provide a rich source of experience and know-how that are applied in the development of elevator products.
The streamlined form features the technology obtained from rapid transit railway development.
The flow analysis technology obtained from the car design for rapid transit railways was used to develop the streamlined capsule structure that reduces noise.
Wind tunnel testing using reduced scale models
Evaluated the aerodynamic sound generated by a 1/12 scale car model to confirm the noise reduction effects of a streamlined capsule structure.
Uses steel plant technology for smooth acceleration and deceleration
Using the control technology for rolling machines which ensures smoothness and uniformity in thickness of iron products, we prevent any irregular rotation of the traction machine's motor to allow smooth acceleration and deceleration of the elevator car to ensure riding comfort.
Supporting Product
High standard of safety and comfort has always been in our DNA.
Elevators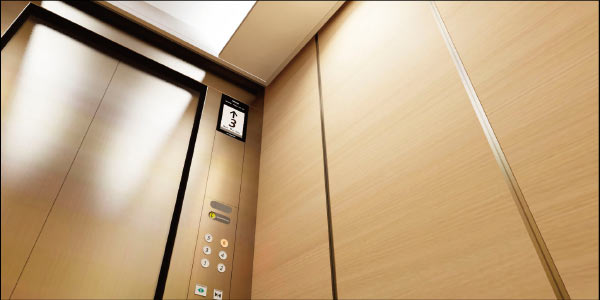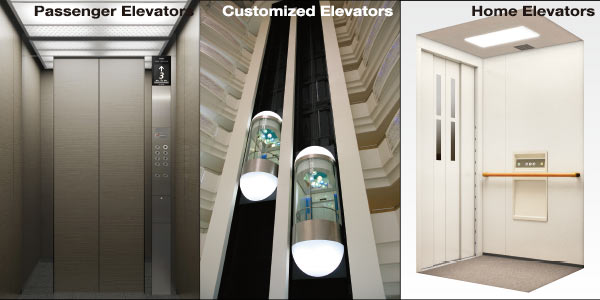 Escalators and Moving Sidewalks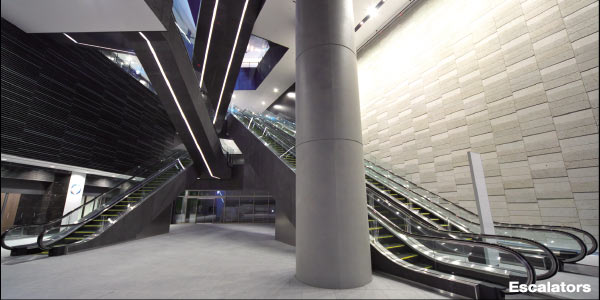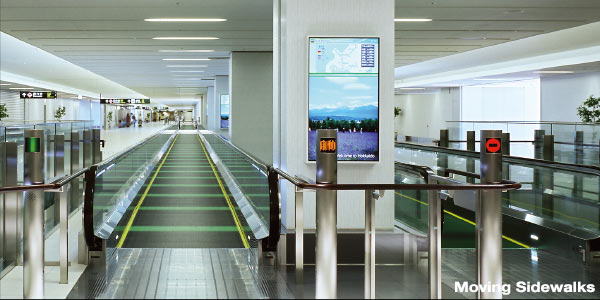 Please check the applicable country's website for product details.
Services
Hitachi supports performance retention and problem resolution in the long term to maintain product quality.
Maintenance
Maintenance system
Professional maintenance is crucial for safe usage of elevators and escalators in the long term. Hitachi has professionally trained engineers and maintenance tools at each service base.
Technical support from Japan
Hitachi has an established supply system of maintenance parts. Hitachi also organizes technical trainings and seminars both in Japan and over-seas to inform the latest maintenance skills to engineers.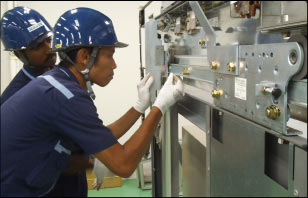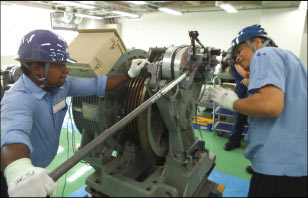 Modernization
Hitachi proposes a variety of modernization options for aging elevators and escalators such as control system modernization, interior design modernization, and complete modernization in a short period.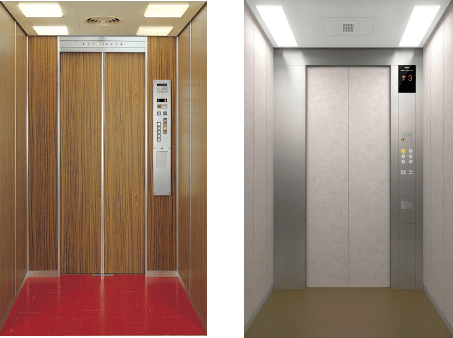 Please check the applicable country's website for service details.
Global Network
With building growing higher and higher in cities around the world, Hitachi is expanding its bases operating in Asia, the Middle East and Europe to provide customers with high quality elevators.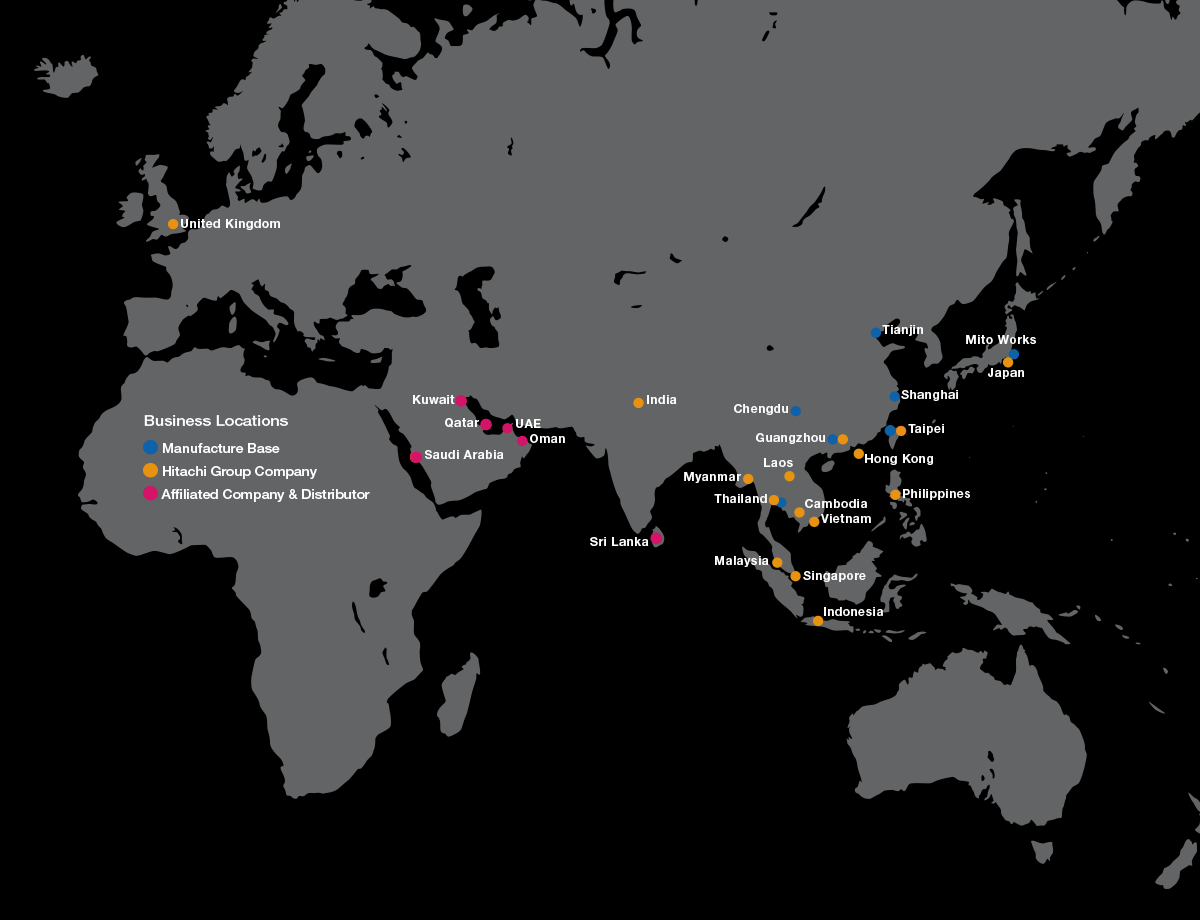 Delivery Record
Hitachi's elevators are operating in buildings, shopping malls, airports, train stations and other facilities around the world.
Shanghai World Financial Center

Shanghai, China

Park Hotel Alexandra

Singapore

Al Hamra Tower

Kuwait City, Kuwait

Al Othman Office Tower & Kempinski Al Othman Hotel

Dammam, Saudi Arabia

The Gramercy Residences

Makati, Philippines

Sedona Hotel Yangon

Yangon, Myanmar

Hang Seng Management College

Hong Kong, China

Phuket International Airport

Phuket, Thailand

JW Marriott Mumbai Sahar

Mumbai, India
Education
As the essence of maintenance services is excellent human resources, Hitachi operates four education bases that work closely with the bases in each country to provide training programs with actual elevators and escalators, as well as education in technologies and skills in areas that include, installation and maintenance.
Global Training Center (Japan)

Training scene (Escalator)

Guangzhou Training Center (China)

Shanghai Training Center (China)

Asia Training Center (Thailand)

Education scene

Training scene (Elevator)
The History of Hitachi Elevators
Throughout Hitachi's 90-year history of elevator development since 1920's, we have remained at the forefront in elevator development capabilities, always looking to the future in order to realize cities of high-rise buildings and of high functionality. "Creating elevators that are the best in Japan as well as the world" is the pioneering spirit that pulses in the heart of every Hitachi engineer.
| Year | Speed | Description |
| --- | --- | --- |
| 1920 | | Started elevator research at the Kameido Works (Tokyo) |
| 1964 | 300 m/min | 300 m/min elevator is delivered to Japan's first skyscraper building |
| 1993 | 810 m/min | The world's first elevator with a speed of 810 m/min developed |
| 2016 | 1,200 m/min | The ultra-high-speed elevators achieved the world's highest speed of 1,200 m/min |
| 2017 | 1,260 m/min | The ultra-high-speed elevator reached the world's fastest speed of 1,260 m/min |