Last Updated: August 5, 2013
Hitachi Incident Response Team (HIRT) has commended one of its staff who have been selected as honoree of the Asia-Pacific Information Security Leadership Achievements (ISLA) 2013. The awards were given by ISC-squared (ISC)2, a non-profit organization in certifying security professionals throughout the world.
HIRT is proud to announce that one of its staff have been selected as honoree of the Asia-Pacific ISLA 2013 awarded by the (ISC)2 and its Asian Advisory Board.
Dr. Masato Terada at HIRT recognized as Honoree for the Category of Senior Information Security Professional (View PDF version). This is a great accomplishment of his contribution to a project 'JVN(Japan Vulnerability Notes), JVN iPedia and MyJVN'. JVN, JVN iPedia and MyJVN are the vulnerability database framework in Japan, and these are operated by JPCERT/CC and IPA (Information-technology Promotion Agency, Japan).
The ISLA Program is held annually by (ISC)2 and it is aimed at recognizing the achievements of outstanding information security professionals across Asia-Pacific.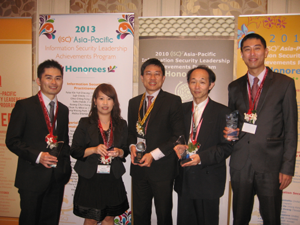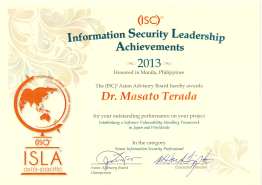 With Honorees of Asia-Pacific CSIRT teams.
[L] Chia-Ching Fang (TWNCERT), Vivian Tsai, Leung Siu Cheong (HKCERT),
Masto Terada (HIRT), Kuang Chun Hung (TWNCERT) [R]