This article is based on a "Mobility as a Service: Mobility of the Future," a talk on co-creation given at Hitachi Social Innovation Forum 2022 JAPAN, which took place October 25 to 27, 2022.
The affiliations and positions of persons in this article are current as of the date of the talk.

Ludmil Neykov
Hitachi Rail
Chief Digital Officer
Promotes smart mobility and digital transformation in the transportation sector.
Hitachi's vision for MaaS
We at Hitachi Rail believe that cities play a key role in shaping the future. Accounting for 80% of the world's GDP, 60% of its population, and 70% of its CO2 emissions, cities are essential when it comes to implementing the solutions we need for society as a whole. However, cities and public transportation systems are facing some major challenges, the biggest of these being traffic congestion. Congestion causes a decrease in productivity to the tune of several billion dollars a year, based on estimates that the average person spends 150 hours in traffic each year. Other issues related to congestion include traffic accidents, which take the lives of about 1.3 million people each year, and exhaust from vehicles, which negatively impacts public health. As a result of the COVID-19 pandemic, many cities are now also agonizing over dropping revenue and rapidly changing demand. Climate change attributed to CO2 emissions is a dire consequence of the movement of people and things between cities.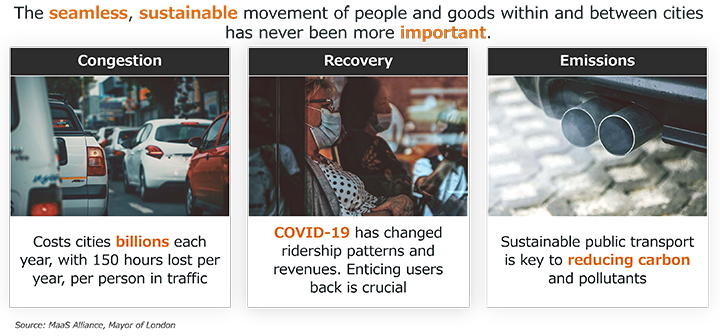 This point is particularly important to Hitachi Rail and forms the first pillar of our decarbonization strategy. Decarbonization is achieved by switching from cars and planes to trains. This switch is also referred to as a modal shift. But first, it is necessary to improve public transportation systems―to make them more convenient for all users. By boosting conventional solutions with digital technologies, we can revamp outdated infrastructure and hardware to improve and streamline people's transit experience.
Ultimately, however, people choose their means of transportation. Every day, millions of people make this choice without giving much thought to CO2 emissions. Transportation must be convenient, punctual, and available at a reasonable price. In reality, the two main factors that influence user behavior are cost and convenience.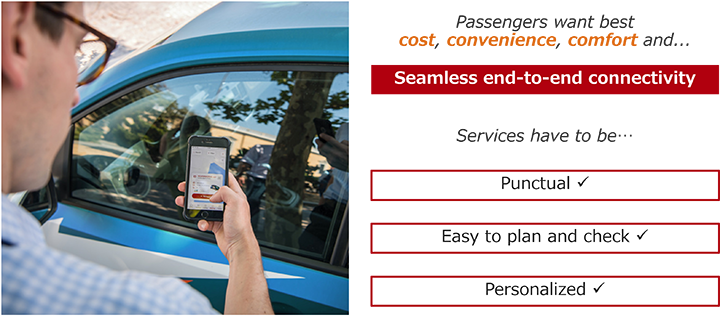 At Hitachi Rail, our vision is, through sustainable public transportation systems, to reduce carbon emissions and prevent pollution. But this requires changes in user behavior and technology, making it hard to achieve. To tackle the global issue of climate change, we must encourage people to make a modal shift, by linking diverse services and means of transportation operated by different companies and by providing a variety of public transportation systems that offer more convenience and higher cost performance. We believe that Hitachi holds the answer to such challenges. Hitachi Rail has developed the Lumada Intelligent Mobility Management Suite, which provides environment-friendly solutions based on digital technologies. This integrated solution takes smart mobility to the next level, offering a comprehensive, 360-degree field of vision and comprising three main functions: smart ticketing, mobility management, and electrified mobility. Supporting these functions is the 360Motion platform, an analytics layer developed by Hitachi Rail. In this way, we can centralize data from the suite of 360 apps on a broad scale and create a digital twin of entire transportation networks.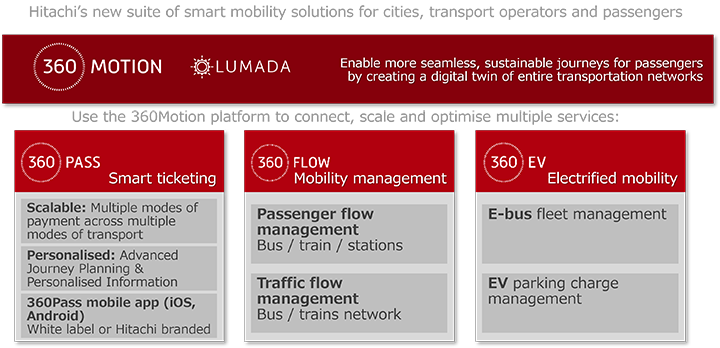 GoGoGe: A MaaS pilot project in Genoa
The MaaS (Mobility as a Service) pilot project carried out in Genoa, Italy, is one example of Hitachi Rail's digital strategy in action. Called GoGoGe, this project was a joint effort with AMT Genova.
With this project, which started in May 2022, we greatly improved the value provided to customers through 360Pass and 360Motion. The main advantage to using 360Pass's smart ticketing feature is its backend processing that automatically collects fares for each account. This allows users to use a single platform to access various transportation systems, including subways, buses, elevators, parking lots, and taxis. The platform also incorporates the Be-In Be-Out (BIBO) ticketing system, which employs cutting-edge Bluetooth beacon technology to enable people to use public transportation in a gateless, hands-free way.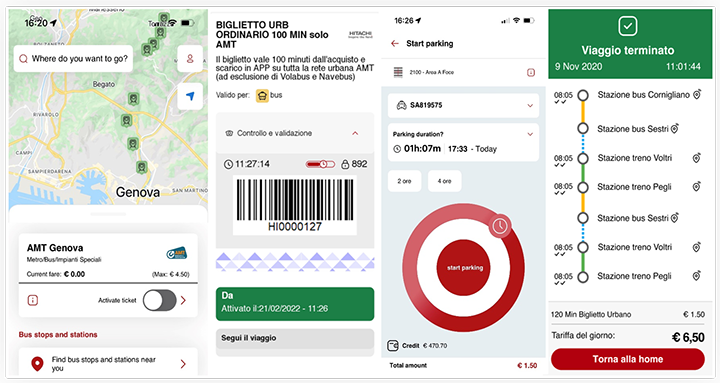 Handling all sorts of transportation needs, the smartphone app is an interface through which users can plan trips, buy and check tickets, and access real-time transit information.
Interactions between users and machines within the app are designed to be easily extendible. This means that services can be added to and integrated within a single app, thus ensuring agility without affecting user experience.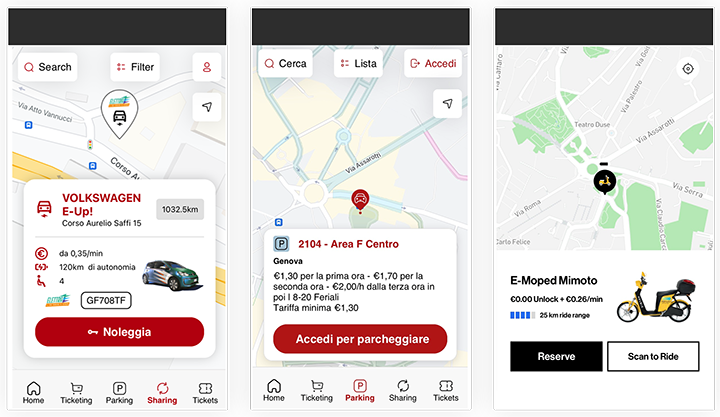 Furthermore, Hitachi Rail and AMT Genova have started a proof of concept to improve mobility throughout all of Genoa. The proof of concept uses the 360Motion platform on city buses and provides real-time information on congestion across the entire transportation network. Users can check the level of congestion on each bus, while AMT can monitor both the crowdedness and location of each bus at all times. The platform also allows users to customize their service-related settings, accurately predicts user needs, and helps maximize the performance of various transportation systems. Other value-added services of 360Motion include those for managing the day's timetables, optimizing transportation, managing vehicles, and planning transportation in real-time.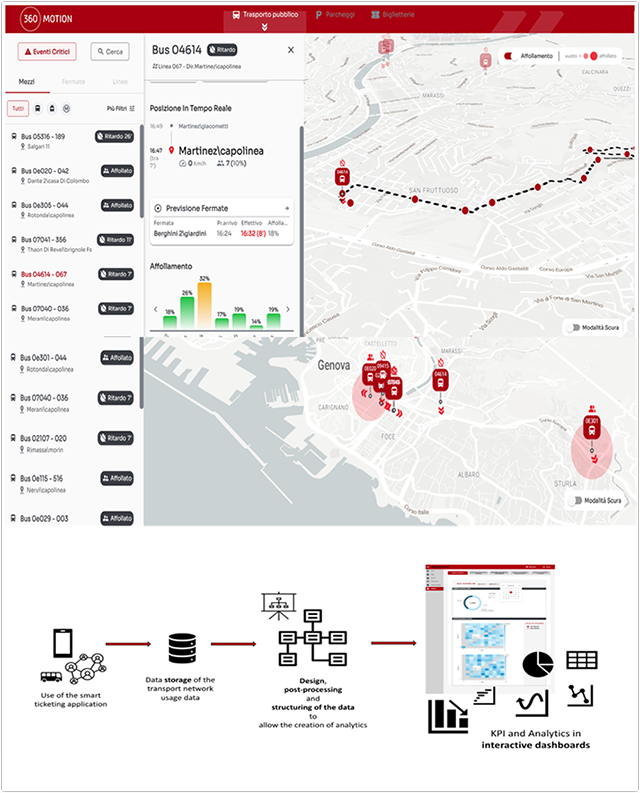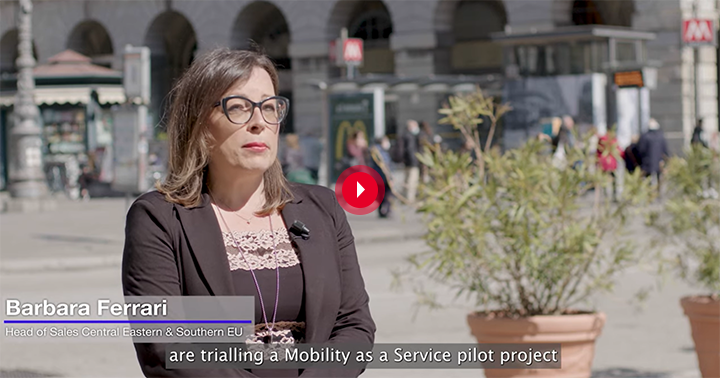 Marco Beltrami
AMT Genova
President, CEO
Promotes business transformation and service quality.
A public transportation operator's view on Mobility as a Service
AMT's vision for smart mobility
A public transportation operator in Genoa, AMT believes that public transportation systems play a significant role in shaping a city's future. The better its transportation services, the more competitive a city becomes on the world stage. Without question, technology brings big changes to transportation services, making possible services that are customizable, highly reliable, and highly efficient. A smart city needs smart mobility. AMT aims to become a smart company. In addition to GoGoGe, we are currently developing a number of projects by using cutting-edge technologies, such as AI, 5G, and cybersecurity technologies. The MaaS solution is an important pillar of our vision, and the proof of concept conducted by using Lumada is itself the MaaS solution.
Project background
Over the years, Hitachi Rail and AMT have collaborated on a number of projects. In this particular project, the city of Genoa also took part in the proof of concept, which started in 2022 and spanned many months. Specifically, testing of the solution started on May 9 with 1,000 volunteers and lasted six months.
Project achievements
Above all else, travel within the city became easier. The provision of all services via a single platform was well received. People were especially happy about the use of hands-free technology and the ease with which they could make payments. Users were pleasantly surprised by the world's first hands-free ticketing system. To start using the system, all they needed to do was download the app, log in, and then connect via Bluetooth. Then, they could simply get on and off buses, without having to show a ticket or tap their credit card. At the end of each day, they would be charged the cheapest fare based on the route traveled. The app also provided real-time information on traffic conditions and tracked how long the user had been in transit. Together, these features made for a revolutionary transit experience―the first of its kind.
The platform offers many benefits not only to our customers and city residents but also to AMT itself. We gained a wealth of information, which is hugely important. By using the 7,000 beacons installed throughout the city, we can closely track users as they move through various transportation systems. We can collect data on the modes of transportation each person uses (such as buses, subways, or carsharing) as well as their start and end points. We can also check traffic congestion in real time. Based on this information, we can improve and customize service design according to people's needs. As for our goal for the next ten years, we hope to actively accommodate services in response to demand.
The city of Genoa also benefited from the GoGoGe project. As a robust MaaS platform, GoGoGe integrated all city-run transportation services, making payment extremely easy. For example, users can use GoGoGe to pay bus fares as well as car-sharing and bike-sharing fees.
By using the smart travel planner, users can select the best travel routes and options in a timely manner. The platform is transforming people's lives by changing the way they travel. Through this pilot project, the city of Genoa also gained information that it can use in future decision-making.
GoGoGe exceeded our expectations. Before this project, we did not know it was possible to start something so innovative in mere months. We're truly grateful.
The overarching theme of MaaS, or Mobility as a Service, is the subject of discussion in all kinds of settings, but oftentimes such discussion doesn't go beyond a lecture or a slideshow. In contrast, GoGoGe was an actual project. We produced actual results in terms of information collection, and the collected information will serve as an important resource in future development projects. Thus, we'd like to once again thank Hitachi for this wonderful opportunity.
Conclusion
Hitachi Rail consistently supports initiatives that prioritize transit users above all else, such as the efforts of cities and transport companies to recover from the COVID-19 pandemic, and to reduce the cost and carbon emissions associated with traffic congestion. A global leader with a comprehensive view on smart mobility, Hitachi Rail provides the Intelligent Mobility Management Suite, which runs on Lumada, and also collaborates with Hitachi Group companies such as Hitachi Energy and GlobalLogic. To ensure success, Hitachi Rail puts its all into providing value to its customers, society, the environment, and the Hitachi Group.
About AMT Genova

AMT is an operator of public transportation systems in Genoa. Specifically, AMT operates seven types of transportation systems, from buses (including trolleybuses), cable cars, and public elevators to subways, tourist railroads, boat buses, and rack railways.
Founded in 1895 as Unione Italiana Tram Elettrici or UITE, AMT is currently working toward the electrification of its transport business, with the goal of the complete electrification of public transportation systems by 2025.
Related information
Hitachi Rail's '360Pass' mobility app to transform travel in Trentino (November 30, 2022)
World first as entire city's transport network is digitally connected with Hitachi's new Smart Mobility suite (July 20, 2022)
*

The affiliations and positions of persons in this article are current as of the date of the interview.

*

Company names, product names, etc., appearing in this article are the trademarks or registered trademarks of their respective companies.