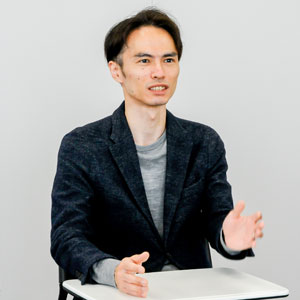 Hidenori Akatoki
Senior Engineer
GL Japan Business Operation
Applications Services Division
Digital Engineering Business Unit
Hitachi, Ltd.
In the Tokyo Metropolitan Area, PoC demos were carried out at two Nojima stores that mainly serve different customer groups. In these demos, employees tested and verified the value of each proposed measure to see how it would actually work on location.
For each PoC, GL Japan first prepared a clickable UI that allowed users to easily move between screens with a simple click. Following a series of demos in which Nojima employees actually used the UI, GL Japan listened to the employees' opinions and requests in regard to the usability and functionality of the UI. The feedback was collected into a backlog, where each item requiring action was then assigned a priority level. PoC applications were iteratively developed and updated based on the agile development methodology, which quickly cycles through processes for each function. Each time, the results were applied to the scope definitions, which clarified things such as the work content, scope, and deadline for developing the MVP*3 (the minimum product that would meet the customer's needs).
Responsible for project management at GL Japan, Hidenori Akatoki and Wako Hatsuda were careful to stay in close communication with Nojima team members and to elicit clear answers regarding items of high priority. Of the actual development procedure, Akatoki further explained, "We started with development in areas that we thought were less likely to be affected by change. From creating and updating the clickable UI, to developing and updating PoC applications based on the UI, conducting demos to verify the applications, creating a backlog to manage feedback from the demos, and confirming, updating, and examining the backlog—tasks at every level were being carried out in parallel." On top of that, the team improved development productivity by employing a "two‑in‑a‑box" team structure that spanned national borders; sharing opinions quickly, meticulously, and in real time; and using Digital Accelerators (basic components that have been specialized for each type of industry).
Likewise, Nojima responded promptly, with the people in charge of the relevant departments (those corresponding to the roles of core GL Japan team members, namely, strategists, designers, and architects) rapidly putting together their opinions and making responsible decisions. Hatsuda highlighted the key points of agile development, saying, "Agile development involves making continuous improvements through trial and error. To make sure the project doesn't stray off path due to individual opinions, managers who have the power to make decisions need to do so quickly and clearly."
Thus, by the middle of May 2023, four months after the project's start, all planned PoCs had been completed. Based on the results, the team has now shifted their focus to developing an MVP. They plan to maximize product value by implementing the MVP in the live environment from an early stage, making improvements, and then cycling through the process iteratively.
*3

MVP: Minimum viable product