A panel discussion "Mobility Service: Future & Impact on Society/ Industry"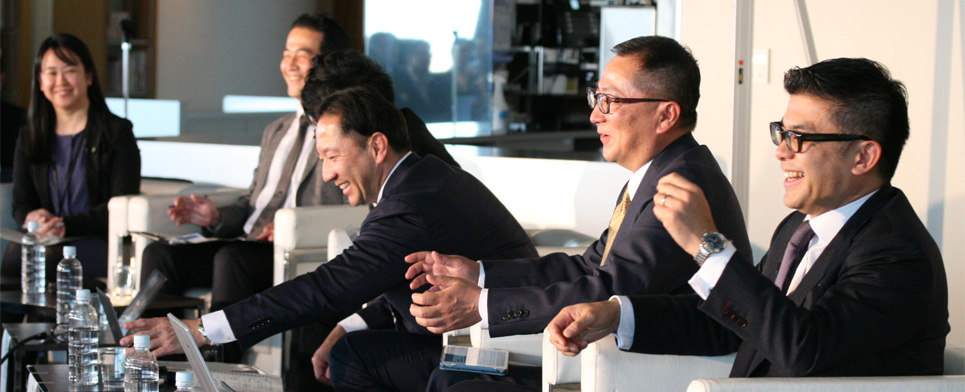 @Roppongi Hills, Library Café in Academy Hills
Facilitator :
Hitachi, Ltd. R&D Group
Center for Technology Innovation - Control
Department Manager, Shiro YAMAOKA
Global Center for Social innovation - Tokyo
Senior Researcher, Yuki HARA
In the discussion of the "advancement of mobility service,"
The distinct problem in Japanese society where the mobility services are widely adopted is that the number of vulnerable road users is particularly large. This situation will be clearly noticeable not only in the underpopulated areas but also in the urban areas such as the Tama New Town in the next ten years.
The solutions to this problem are mainly discussed by local governments and related business entities that centered on the perspectives of technologies and providers instead of citizens who will be influenced directly. Therefor an opinion of to consider providing solutions with the point-of-view of citizens is important was raised.
Also, other opinion regarding how to integrate "omotenashi," which is the Japanese style hospitality as Japanese strength and digitalization was expressed. This is an issue as the way we use cars, the structure of streets, and the entire society has been changed through the advancement of connected and autonomous driving technologies.
In the discussion of the "impact to society & industry,"
several opinions were mentioned. For example, one mentioned that it is important to have the ability to conceptualize how to make a win-win situation for multiple stakeholders such as the providers and receivers of services over the entire society instead of limiting to specific technologies or domains in the future mobility service. Other mentioned that it will be essential to provide a mobility service scheme to not only reduce the mobility cost but design triggers to bring happiness.
Last, in the discussion of the "expectations toward Hitachi,"
we were able to obtain many valuable opinions from the attendees. For instance, one attendee stated a request of collaborating with Hitachi to develop a predictive diagnosis system preventing facility failure with Hitachi's total strength and its maintenance know-how and IoT. Furthermore, another attendee expected Hitachi to engage a total activity not only with its technology capability but offering values for mobility such as implementing services as the transportation methods and for passengers while using transportation, and the joy that passengers can feel beyond those services.
The attended Hitachi members also commented that they were inspired from the contents of the panel speakers who shared their knowledge and experiences of the latest information about autonomous driving technology and its business application. They were able to re-recognize that technology is not for purpose but a mean to realize values and services that one wants to provide. They also mentioned that they were able to connect to their mind advancement for broaden perspectives and innovation.
We are going to conduct more events relating innovation by inviting holistic key opinion leaders in the future.