What will trust look like in the future? Opportunities for social innovation presented by new forms of "TRUST"
March 5, 2019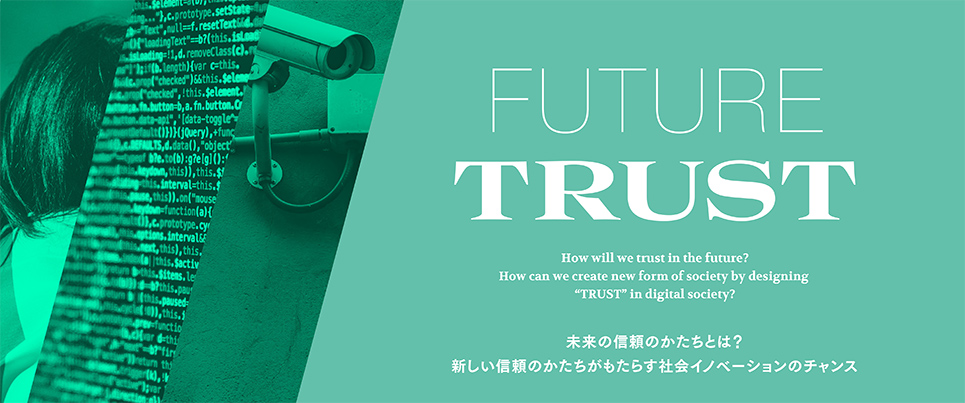 Shifting from an era of Local Trust to Distributed Trust
With progress in technology, the structure of society is gradually shifting from "centralized" to "decentralized." Will this affect the shape of trust? If so how? In TRUST/2030, a vision design project with Method, a global design firm, we are exploring how society and peoples' values will change by looking at the forms that trust might take in the future. This time, we invited external guests to participate in an open event held on 5th March 2019, to discuss "Future Trust."
Participants were first met with a "Mini Exhibition" displaying material used in the TRUST/2030 is project, as well as several key questions in relation to "Future Trust" and asked to place votes. Many participants were seen deep in thought as they checked how others had voted while trying to determine how they would vote.

Joshua LEIGH, Associate Director at Method, led the talk session as the first speaker, providing an overview of how trust has changed in human society over time before going on to discuss the TRUST/2030 project. Humans who led life in small groups formed small societies based on trust between individuals. In such a society, the trustworthiness of an individual is linked to the trustworthiness of those connected to them, so it is the responsibility of each to maintain their own and therefore ensure the trustworthiness of others. As urbanization progressed and transactions involving institutions such as governments, banks and unions, etc. increased, Trust became between 'an individual and many.' And with the advent and prevalence of the Internet today, today, Trust is between 'many and many.' After showing how society is moving from "local Trust" to "distributed Trust," Leigh shared three trends identified through TRUST/2030 in response to how society will change with changing lifestyles and values, and spoke of how we are exploring the shapes of Future Trust.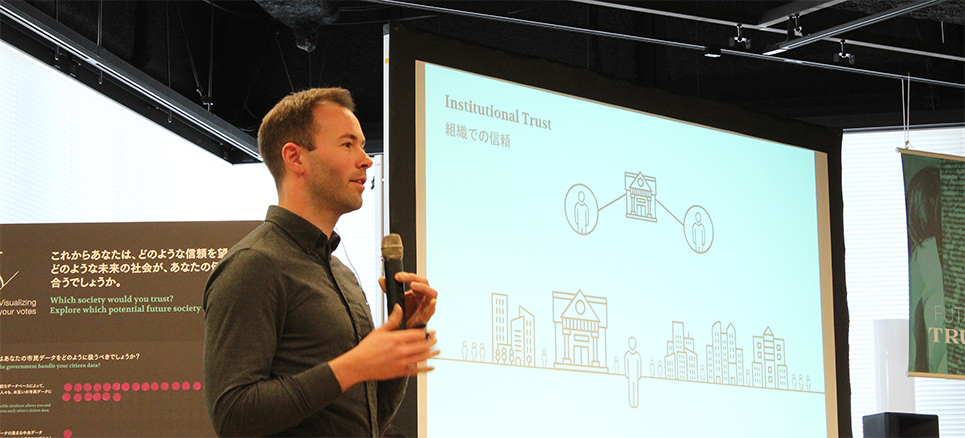 "Future Trust" in the fields of technology, society and life
This was followed by the three guest speakers identifying issues related to "changes in Trust, and Future Trust."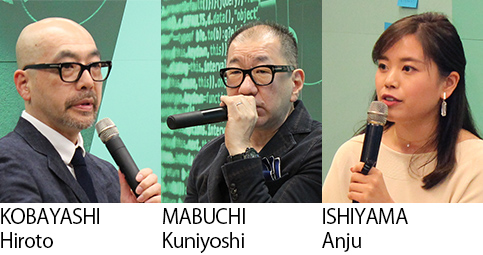 KOBAYASHI Hiroto, CVO, Founder at INFOBAHN Inc., identified challenges from the perspective of technology, and spoke on the 'Asymmetry of Trust.' He pointed out that, in many cases, trust is asymmetrical, and directed only one-way, and that unless we can guarantee transparency, including those of algorithms, trust cannot be secured. He added, that social cost is reduced by trust. To prevent the growing cost of establishing and maintaining frameworks in an environment of not being able to trust, he shared how new waves of technology such as those using 'zero-knowledge proof' are being created.
In closing his talk, he referred to 'Public Parts' (a viewpoint of individuals disclosing their own privacy for the public interest) advocated by author Jeff Jarvis, and shared his belief that public and private are not in conflict with each other although the balance is like a scale on a slide ruler which may need to be adjusted according to the situation.
The next speaker, MABUCHI Kuniyoshi, director at Facebook Japan, spoke from the perspective of society. He pointed out that, while many causes of concern related to trust are emerging in the midst of the current global scale information revolution, Japan in particular seems to have a pessimistic view of the future, as well as a low level of trust in the societal systems. On the other hand, he noted that the level of trust in companies or organizations to which an individual belongs and expectations, are relatively high, and that it would be to the benefit of companies to invest in this trust. Further, he shared as an example, that AI is being used to forecast revenue or assist staff evaluation to further empower employees, and as a result securing transparency at Facebook.
The last speaker was ISHIYAMA Anju, the 'sharing economy evangelist' to the Cabinet Secretary of Japan, who spoke from the perspective of 'daily life.' She explained that, while there is no clear definition of the term 'sharing economy,' traditional relationships of trust such as 'borrowing from and lending you neighbor soya sauce' can be described as a form of 'sharing economy.' At the same time, she shared how the platform features of 'Sharing Economy 2.0' can be used not only by individuals to directly share things, places, time and skills, etc. but how social capital can be gained through C2C connections, and used examples from her own experience to convey the merits. The important factor for an era of 'Sharing Economy 2.0' will be, 'how to build trust.' She felt that although the form of trust will change together with the ages, the future key linking technology and trust can be found in human conscience, and its extension.
Exchanging ideas and opinions surrounding Future Trust
An 'unconference' session, facilitated by INOBORI Yuichi from INFOBAHN, Inc., was held after the talk session to enable the audience to engage with the speakers. A question was raised on 'how might "Public Parts" be fostered in Japan, a society which tends to lean towards privacy and the protection of personal information.' Kobayashi took the question, and offered an example from Silicon Valley, where during the Christmas season, people donate toys which might have been stored away in their garage or elsewhere as Christmas presents to children less fortunate. He suggested that, a virtual environment would be enough but that the important point was to experience such small success stories in the public community.
Another question posed was, 'in the world of a sharing economy, users leap beyond the boundaries of dispersed communities to extend trust to other parties. What can be done to enable even more Japanese to overcome barriers and extend trust outside of their society?' Ishiyama replied that, humankind was once connected to each other in small communities through trust between individuals, and suggested that, the reason that they cannot overcome this barrier today may be due to having been in an intensively centralized structure for a long time. She felt that the first step would be for people to realize that that once upon a time, humans were connected by trust between individuals.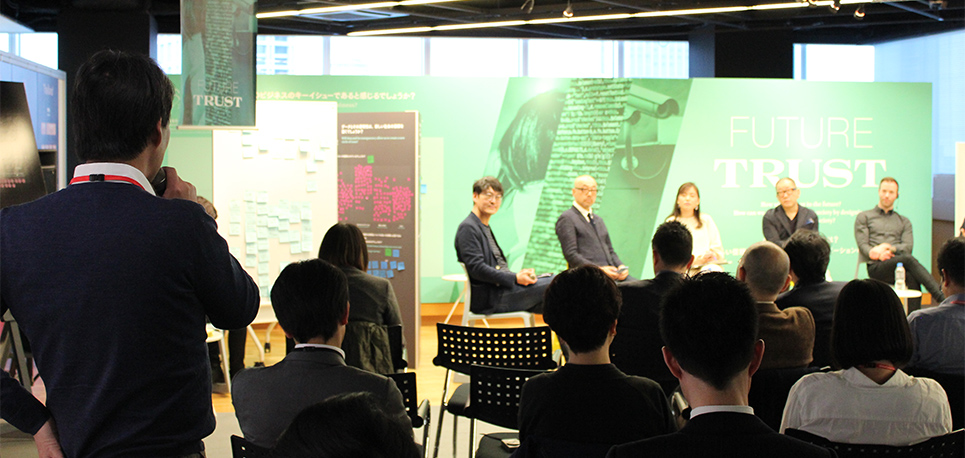 The use of AI in personnel evaluation attracted much attention. One participant asked about how to ensure the same sort of trust which is normally given by one person to another, and how this might be viewed in the case of failure. Mabuchi replied that, to a certain point, decisions will be made by AI but there will be a step requiring calibration by a human, and at this point the level of trust between individuals will be taken into consideration. Also, how that person will help contribute to a company over the long term can only be determined by a human. He noted that from the perspective of diversity, the way we ensured the removal of any bias was important.
Further, in relation to how technology might play a role in fostering trust, Ishiyama replied that, the human conscience is trust, and that technology could extend that. Leigh added that, when humans use AI, the preconceptions of the person handling the AI in the initial settings or training the AI in a technical area, tend to intervene, and take shape in the results, so it is thorough consideration of such bias is necessary.

After the Unconference session, a networking session was held. TANAKA Junko of JERIQUE prepared a smorgasbord of dishes based on the concept of "Trust" which helped to animate the conversation. The dishes included salads with a 2D barcode indicating the producer of the ingredients, a choice of hamburgers with beef patties from either a famous fast food restaurant or brand name, and snacks in a package showing no information, to make us think how we can trust the contents.