Date
February 9, 2015
Title
Hitachi High-Technologies has Developed a New Wearable Sensor that Measures "Organization Activation Level" Correlated with Collective Happiness
Release Digest
Hitachi High-Technologies Corporation ("Hitachi High-Tech") announced today that it has developed a new wearable sensor that gathers and analyzes data on human behavior, and uses this data to measure the "organization activation level," which strongly correlates with work productivity. This product takes advantage of the technology developed by Hitachi, Ltd. ("Hitachi"), which quantifies the "happiness level" of a group from the distinctive patterns of physical movements.
The new wearable sensor can objectively and efficiently evaluate the effectiveness of management policies and workplace environments in a company, where it had been difficult to achieve such objective evaluations in the past. Users can thus apply the service that makes use of the wearable sensor as a new management support tool.
Hitachi High-Tech will provide this service in a variety of fields as a new solution in the "Human Big Data/Cloud Services" that it is already offering.
Furthermore, Hitachi will use these technologies to support customers in a broad range of business fields in their efforts to improve business performance and support measures to increase happiness of regional residents.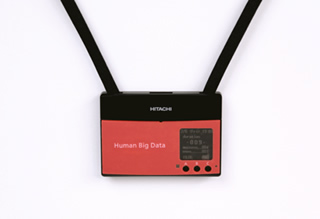 The "new wearable sensor"