Date
February 3, 2016
Title
Hitachi Developed Prototype of Low Power Transceiver to Achieve High Speed Data Transmission in Low Signal Integrity
Release Digest
Hitachi, Ltd. has developed the prototype of low power transceiver that achieves communications at the data transmission speed of 25Gb/s with the copper cable up to 10m. IEEE 802.3bj for the copper cable that connects information equipment such as storages or servers in data center is 5m. This prototype eventually demonstrated a high speed data transmission in a communication environment where its signal level has been reduced to 1/300.
As to verify the performance of this developed prototype of transceiver, the communication validation was conducted in a communication through 50dB transmission loss channel at 25Gb/s using 10m OMNIBIT® cable, manufactured by Hitachi metals, Ltd.. As a result, it is confirmed that a high quality communication is achieved with a bit error rate that is less than 10-12 as defined in IEEE 802.3bj while its power efficiency is world's top class of 0.269pJ/bit/dB.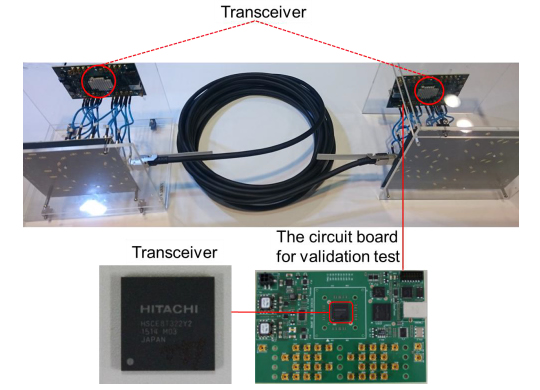 The prototype of low power transceiver
*

Ethernet® is a registered trademark of Fuji Xerox Co., Ltd.

*

OMNIBIT® is a registered trademark of Hitachi Metals, Ltd.