Date
June 14, 2016
Title
Successful Identification of Metabolite Differences in Urine between Healthy, Breast Cancer and Colorectal Cancer Groups
Release Digest
Hitachi, Ltd., Summit Pharmaceutical International Corporation and Sumitomo Corporation today announced the successful development of basic technology for a new cancer screening technique that distinguishes between urine samples from patients with breast or colorectal cancer and healthy people, based on a comprehensive analysis of urine metabolites. The technique detects over 1,300 metabolites such as sugar and lipids from one urine sample, identifies about 10 candidate biomarkers*1 specific to cancer, and by examining the difference in the amount of biomarkers, is able to distinguish urine samples from the cancer patients.
The results of this study open the possibility of a new style of cancer screening which increases screening opportunity as the patients themselves are able to collect urine samples and receive testing by sending the samples to a medical or clinical laboratory. Hitachi and Sumitomo Corporation Group will continue to study the molecular structure of these candidate biomarkers, and proceed with research to distinguish other types of cancers apart from breast and colorectal cancer, for the practical application of this technology.
This research is partially supported by "Acceleration Transformative Research for Medical innovation (ACT-M)," from the Japan Agency for Medical Research and Development, AMED.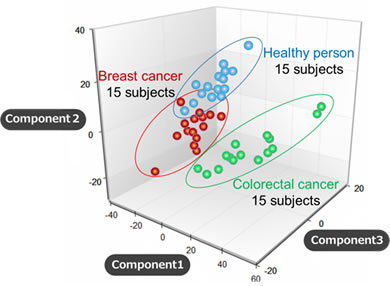 PCA comparison from healthy, breast cancer, colorectal cancer groups
*1

Biomarker (biological marker): a measurable biological characteristic often used in medical examinations to indicate a particular biological state.