Date
August 22, 2016
Title
Hitachi and BTMU Start Proof of Concept Testing for Utilizing Blockchain Technology for Check Digitalization in Singapore
Release Digest
Hitachi, Ltd. and the Bank of Tokyo-Mitsubishi UFJ, Ltd. (BTMU) today announced that they have started Proof of Concept (PoC) testing for using blockchain technology for digitalization of checks in the Republic of Singapore.
In this PoC testing, Hitachi and BTMU communally developed a system in which blockchain infrastructure are used for issuing, transferring and collecting electronic checks. Using the system, BTMU issues and settles checks and some of Hitachi Group companies in Singapore receive the electronic check and deposit the funds.
Through the PoC testing, Hitachi and BTMU will be able to identify issues from various perspectives such as technology, security, operation, and legal perspectives, and aim to realize new FinTech services including digitalization of checks.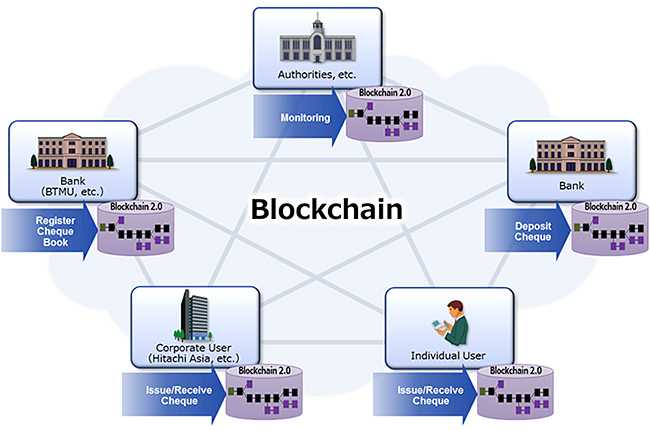 Vision for the Future