Date
August 30, 2018
Title
Highly durable silicon carbide (SiC) power semiconductor "TED-MOS" for energy saving in electric vehicle motors
Release Digest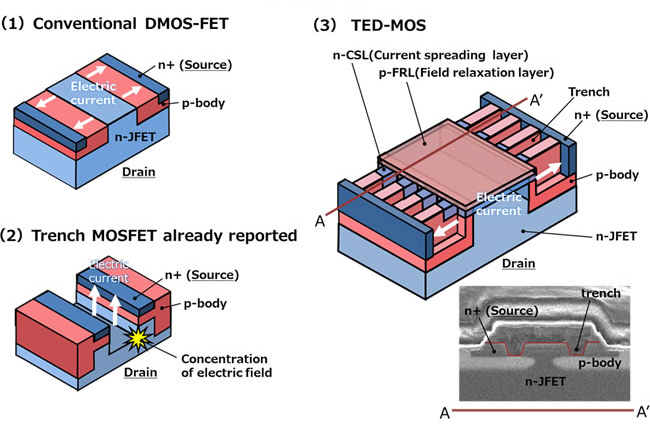 Image
Hitachi today announced the development of an original energy saving power semiconductor structure, "TED-MOS" using next-generation silicon carbide (SiC) material that contributes to saving energy in electric vehicles (EV).
This power semiconductor is a new device using a fin-structured trench MOSFET based on the conventional DMOS-FET, a SiC transistor of power semiconductor. Using this new device, an energy saving of 50% was confirmed as the structure reduces the electric field strength, an index of durability, by 40% and resistance by 25% compared to the conventional DMOS-FET.
Hitachi intends to apply this device in motor drive inverters which are a core component of EVs to increase energy efficiency. Furthermore, by utilizing this technology not only in EVs but also in a range of electrical transducers used in societal infrastructure systems, Hitachi hopes to contribute to efforts to reduce global warming and the realization of a low-carbon society.