Date
September 3, 2018
Title
Hitachi and the Indian Statistical Institute Bangalore develop a theoretical method to determine useful clusters of data necessary for efficient forecasting
Release Digest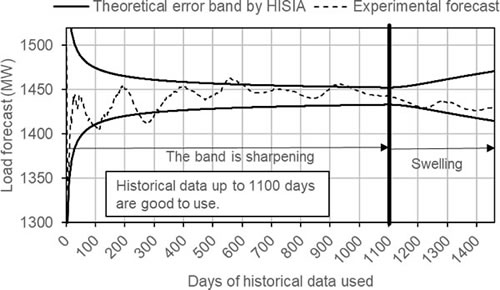 Example of identifying useful historic data for Electric Load Forecast
Hitachi India, a wholly owned subsidiary of Hitachi, and the Indian Statistical Institute today announced the joint development of HISIA, a data analysis method that identifies the type and amount of historic data effective for accurate forecasting. HISIA, is an acronym for "Hitachi and ISI Analysis" and provides a theoretical assessment to judge the amount of data that can minimize the estimation error for a given confidence level.
The technical report on this study will be presented by the team at the 10th IFAC Control of Power and Energy Systems conference to be held from 4th to 6th September 2018 at Meiji University in Tokyo, Japan.
Hitachi will continue to improve and increase applications of HISIA in digital solutions such as predictive maintenance, healthcare and finance.