Technology details
(1) Black-box AI Conversion Technology
Deep learning models, gradient boosting decision trees*4, and other processes and methods have highly accurate prediction capabilities but become black boxes. Hitachi has developed technology to convert these complex black-box AI into AI with clear judgment criteria (simple predictive formulas). First, conventional XAI analysis technologies calculate the level of impact (contribution) that factors (features) have on the prediction value for various AI data input. Next, clustering technology extracts a region of input data that consistently contributes to the prediction value even as the features change. We can simplify the judgment criteria for the input data region that is extracted and convert the AI to a simple predictive formula because those features do not influence the prediction value. This process is repeated for every input data region to convert all regions into simple predictive formulas that customers can understand.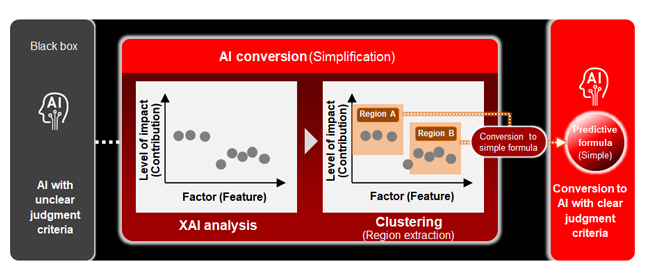 Fig 2. Black-box AI Conversion Technology
(2) Simple Adjustment Technology to Enhance Trustworthiness
Hitachi has also developed methods for customers to adjust predictive formulas based on their knowledge and experience while communicating and coordinating with the AI to reach the necessary prediction accuracy. These methods can adjust the threshold and simple predictive formula in each region acquired using the conversion technology in (1) above.

Fig 3. Example of AI with Clear Judgment Criteria
(Before Adjustment)
A. Customers can use their knowledge to adjust the threshold value for separating the AI input data regions explained in the technology for (1) above. For example, a customer can adjust the threshold value according to the 2000 change in earthquake resistance standards by switching the AI judgment criteria from 1998 to around 2000 as shown in Figure 3-A. By incorporating customer knowledge into the threshold value in this way, customers can improve the prediction accuracy in regions with a minimal amount of data.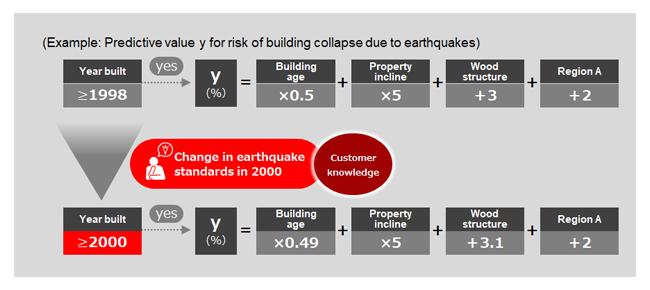 Fig 3-A. Adjustment Method 1
(Threshold Value Adjustment Leveraging Customer Knowledge)
B. Customers can set specific algorithms according to each process as the predictive formula for each region. A customer can designate a simpler algorithm to prioritize the simplicity of the predictive formula over the prediction accuracy. For example, a customer can change "Predictive formula: y = Building age × 0.5 + Property incline × 5 + [If Wooden structure + 3] + [If in Region A +2] + …" to three or less variables if too complex as shown in Figure 3-B.

Fig 3-B. Adjustment Method 2
(Adjustment to Simplify Formulas by Defining Functions)
Customers can easily reflect their knowledge and experience in the predictive formulas precisely because each is made so simple using the technology in (1) above. This ability for customers to adjust the predictive formulas themselves facilitates simple and fast configuration of trustworthy AI.