Technology Details
(1) Analytic cyberattack detection technology
Typically, the collection of numerous cases of cyberattacks has been necessary to create rules to detect cyberattacks. However, creating these rules for connected cars has been difficult as the number of such cases has been insufficient. To address this, Hitachi developed the analytic cyberattack detection technology described below to create these rules by combining its knowledge of IT system security technologies in the financial and public sectors with its expertise in vehicle system development.
First, the technology exhaustively extracts the threats of attacks against the vehicle system by applying the 5W*3 method of a security risk assessment for IT systems. Next, the technology analogically associates the threats with the attacker behavior based on numerous cases of cyberattacks collected in the IT system field. At this point, the attacker behavior does not yet reflect the characteristics of the in-vehicle system. Therefore, the technology adjusts the attacker behavior associated above according to relevance of the system specifications and the attacker behavior. In the last step, the technology creates detection rules to detect attacker behavior from the log data.
This series of processes has been implemented as a new tool to support the creation of rules to detect cyberattacks in vehicle systems. The technology can create about five times the number of detection rules in half the man-hours or fewer compared to detection rules created using only known cases of cyberattacks.
(2) Connected car edge-cloud technology
The V-SOC, located in the back-end system, has functions to collect log data from connected cars and the servers that provide connected car applications and to detect and respond to cyberattacks in an integrated manner. However, the implementation of connected and autonomous-driving functions in vehicles increases the risk of future cyberattacks and requires faster and more accurate detection and response. Therefore, some of the integrated analysis functions that had been entrusted to the V-SOC has migrated to the Central Gateway (CGW*4), which is one in-vehicle ECU. The technology can efficiently link Security Incident and Event Management (SIEM*5) on the V-SOC with the Edge-SIEM on the connected vehicle to improve the accuracy and speed of cyberattack detection and response.
Hitachi and Hitachi Astemo, in collaboration with Trend Micro Inc., also developed a prototype system in which the CGW and V-SOC work together with a car navigation ECU with Linux OS running an intrusion detection and prevention software of VicOne Inc., a Trend Micro subsidiary specializing in automotive cybersecurity (Figure 2). This system monitors logs from the navigation system using the Edge-SIEM on the connected car to detect and respond to cyberattacks. This has demonstrated the ability to efficiently expand the scope of monitoring and countermeasures. In addition, it is the joint development between Hitachi Astemo and Trend Micro announced recently*6 that has made this system possible.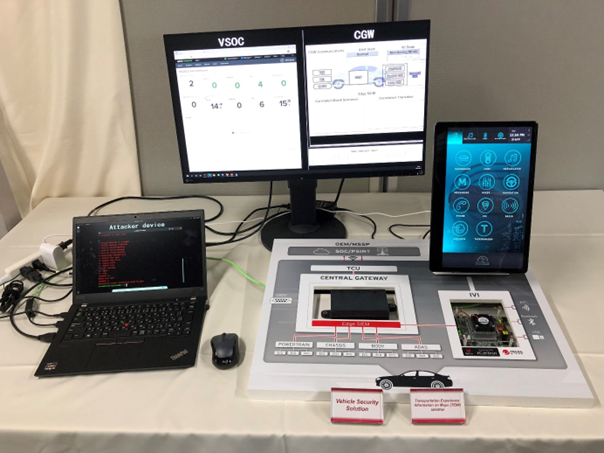 Fig. 2. Prototype System Linking the V-SOC, CGW, ECU Information System
(Developed Jointly with Trend Micro)