Technology details
Construction robots are being considered for use at construction sites to prevent accidents involving falls while working at heights and to save manpower. Unlike industrial robots that assemble industrial products on manufacturing lines, construction robots must work in a variety of environments while changing locations. In particular, when performing heavy work such as hammering anchor bolts in high locations with unstable scaffolding, the robots are likely to retry tasks which can lower work efficiency. By utilizing the system control technology it has cultivated in the field of social infrastructure, Hitachi has developed a machine-learning robot control technology to increase the success rate of work and a real-time process rescheduling technology to complete tasks that are retried in a short period of time. The features of these technologies are as follows.
1. Anchor bolt insertion technology with high success rate under unstable installation conditions
The installation of parts in concrete ceilings and walls requires the precise insertion of anchor bolts with diameters that are nearly the same as the mounting holes in these concrete surfaces. When construction robots try to detect the position of mounting holes, the contours of the holes may become unclear if the concrete surface is peeling, making measurement errors more likely to occur in the camera image recognition. Conventional methods to find mounting holes while sliding anchor bolts over the concrete surface often run into detection errors as variations in the friction coefficient of the concrete surface change the sliding conditions. Additionally, robots executing tasks on suspended rope platforms or under other unstable installations shake due to the reactive forces of high-load tasks, which lowers the accuracy of those tasks. Therefore, these robot systems must wait in standby for the shaking to subside, which also decreases operational efficiency.
Hitachi developed a new robot control technology that uses machine learning to measure reactive forces while hopping an anchor bolt along a concrete wall surface to find the position of the mounting holes (Fig. 2)*2. This technology enables a success rate of over 99% even under unstable installation conditions, and allows anchor bolts to be inserted in a shorter time than before.
Hitachi, Ltd. developed this technology in collaboration with a research group led by Professor Tetsuya Ogata of the Faculty of Science and Engineering at Waseda University.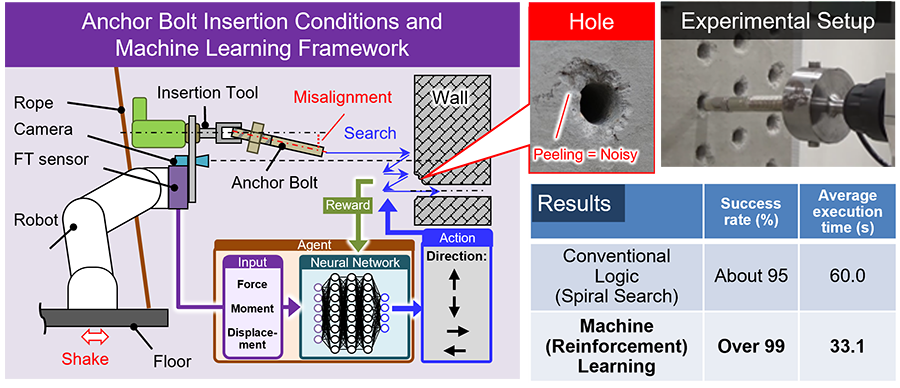 Fig. 2. Anchor bolt insertion operation into holes with unclear concrete wall contours and the effectiveness in improving the success rate and reducing execution time.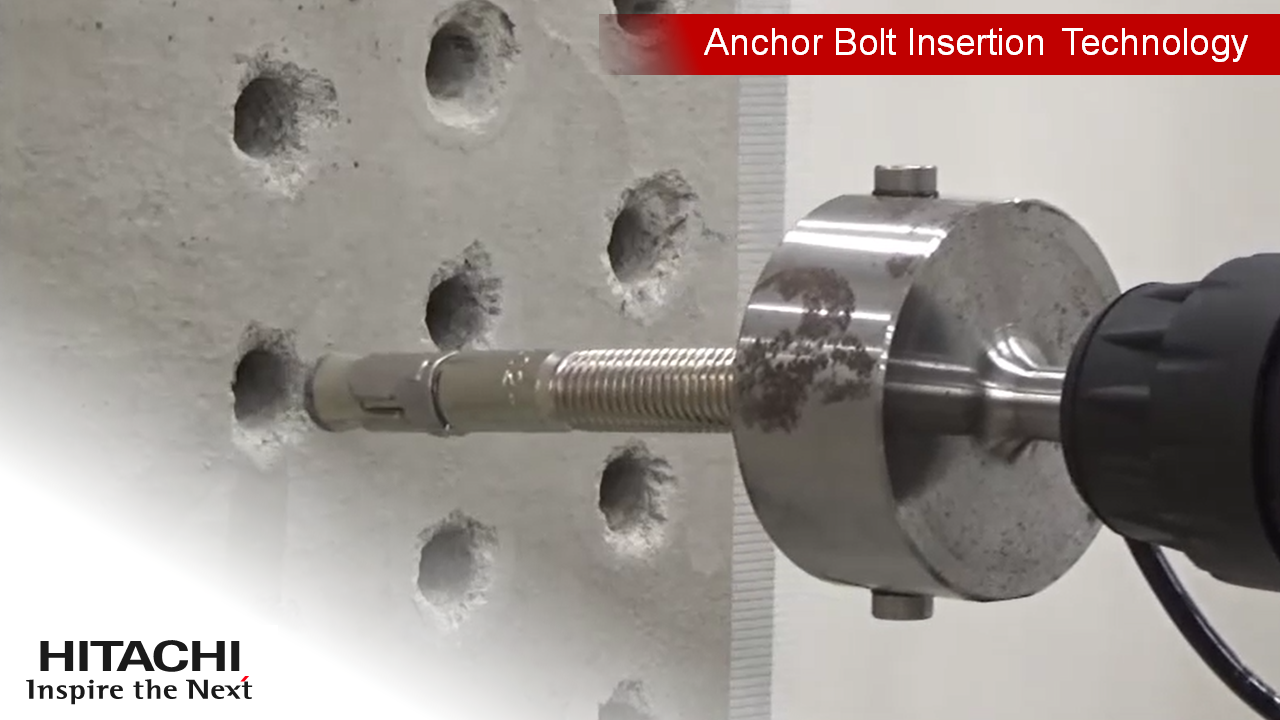 Comparison between anchor bolt insertion using the proposed machine-learning hole search method and a conventional spiral search method (video)
2. Real-time process rescheduling technology in the event of an error
This system uses a dual-arm robot for the many component-handling tasks. A dual-arm robot can perform two independent tasks in parallel, such as cooperative work of holding and attaching parts, or position measurement and assembly. However, there are cases in which the two tasks interfere with each other due to a shaking scaffold or other factors that prevent tasks from being performed simultaneously. Normally, when an error occurs in one arm, the other arm must stop work and wait until the arm with the error retries and completes the task, which can easily reduce work efficiency. Therefore, Hitachi has developed a technology that sets up in advance a list of cases in which the work combinations cannot be performed in parallel and rules to reschedule the order of tasks (Fig. 3). This enables the dual-arm robot to generate the optimal work process in real time according to the situation when an error occurs (Fig. 4)*3. The application of these technologies has shown that they can mitigate longer recovery times when an error occurs and reduce the time to complete all tasks by approximately 10% compared to a system without these technologies*4. This technology can be applied not only to dual-arm robots, but also to other robots in the factory, for example, when there is interference between robot operations.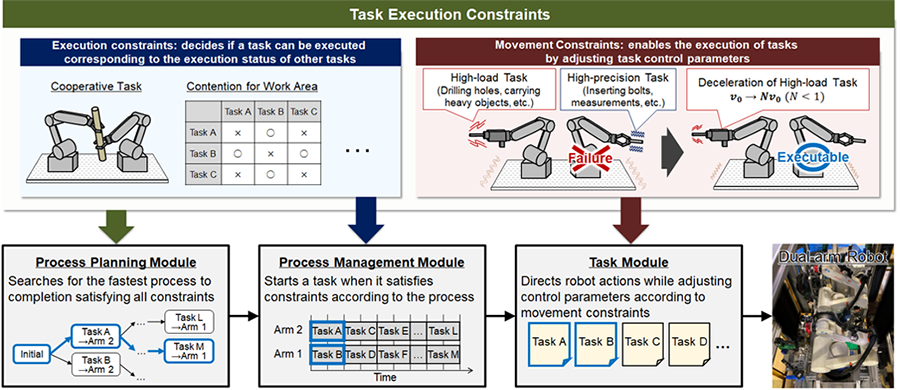 Fig. 3. Rule (constraint) settings to reschedule the task order and the flow to generate the task order

Fig. 4. Real-time process rescheduling technology to minimize the impact of errors