Alex
There are many players in this space: from the power to the locations, to the system, to the block, to the grid, to the software, service providers, and even FinTech. Do we have enough players to start working?
Paul
I think there needs to be further investment in technology and research development, and expansions of people working in these different areas to work together. We've got enough people to get started, for sure.
Mark
We have all the right players gathered across the value chain such as charging operators, automotive OEMs, charging equipment OEMs to kickstart our EV transition. As EV adoption scales up, we also need to consider other parts of the ecosystem across the entire EV lifecycle, such as aftermarket to maintain the population of EVs and charging infrastructure, and EV battery end-of-life to ensure proper disposal or re-purposing.
Alex
There's an opportunity for somebody to develop AI software to help navigate charging stations and find the cheapest charge. Swinging back over to Lounell, what is the future of EV technology?
Lounell
I think the future of EV technology is vibrant. Charging points can have additional functions such as collecting data about the battery, the vehicle, the customer's profile or how they use the terminal. This data is vital to accurately predict charging and energy usage demand and profile the most probable customers to drive EV sales.

From the viewpoint of EV users, they still have anxiety about using unfamiliar charging cables and plug types. If all the cables were similar, it would give them more confidence when charging. In fact, wireless charging may be a viable solution to this problem. Another concern is knowing where the next charging point is and giving customers enough information to get them to their destination. That kind of technology has to provide actionable insights and suggestions to the users.

Moreover, EVs are reliant on the vehicle's battery capacity and performance. So, we will see a lot of innovation in batteries — from design, monitoring, and diagnosis to extending its life. Finally, we will see a lot of convergence of vehicular technologies providing connectedness and autonomy to these electric vehicles.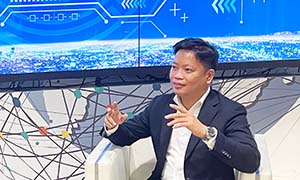 Alex
We will shift to the business side. From the service provider perspective, if the government is not providing grants, what will you do? Is it still viable?
Chee Kiong
We want to capture the EV opportunities in Singapore now. We are ready to make investments into owning and operating EV chargers. The grants will help, but it is not a prerequisite. I think it's a long-term play.
Paul
Things like grants are not enablers, but they are accelerators. They allow markets to get started quickly.
Alex
That's an excellent point. Do you think an external investor would push adoption faster?
Nirupa
I agree with what was said earlier. We're not here for the grants. Grants will help with initial EV adoption, improved technology, use cases, and all those kinds of things. But at the end of the day, what needs to happen is that the commercial technology needs to be commercially viable in order to drive market adoption. Electrical Vehicles and Charging Infrastructure costs are coming down — and continued investment and development in technological innovations will help bring the costs down even further.
Mark
It is very encouraging that we are looking at the market and reading its demands. Without subjecting it to market discipline, we won't get the signals that we need. As Paul said, grants are more of an accelerator. We want to add a little bit of fuel until it hits a certain velocity. Good safety, good regulations and good standards — that's how we grow the ecosystem.
Alex
I am going to swing to my last question. We have a lot of moving parts and moving components. Do we see the need for an OEM or integrator role?
Mark
Part of the National Electric Vehicle Centre's role would be to engage different parts of the ecosystem to collaborate, shape regulations and develop the local ecosystem. However, while the government can play a role to facilitate this, we must partner with industry stakeholders to raise awareness, educate and achieve a cultural and social shift.
Paul
I think there is a space for individuals and corporations to come together to support the industry as a whole. There are always opportunities in common. Investments in technology and innovation need to carry on.
Alex
As we move towards fully electrified public transport, getting there will not be easy — especially from infrastructure and overcoming mindset. But we can all agree this is a clear business opportunity. One of the biggest opportunities is in the software layer, which means that R&D will work together with all the stakeholders to pinpoint and find more necessary technologies.