Didier
We are very close to having small glasses that provide an overlay in 3D with real-time information. Workers will have a screen with them all the time, on demand, giving them the information they need. These glasses also enable workers to be hands-free.

Another area involves combining sensors and other technologies. Currently, sensors are passive; they measure what the person is doing. But other applications will require combining a body sensor network with, for example, a lightweight exoskeleton for the back and shoulders. From the sensor, we can learn the forces exerted on the body, and then we can compute the best support to provide via the exoskeleton. Sensors also can be combined with exoskeletons or haptic feedback to empower workers so they know when to use additional support or respond to fatigue.
Tomokazu
Exoskeletons are a very interesting possibility. They will not only be very helpful for factory workers who must lift and manipulate heavy loads, but also very useful in the healthcare field, helping move patients safely and smoothly. All of these technologies should be small, easy to use and not annoying. I expect, in the future, that these kinds of devices would be much more developed.

At first, the price for such technologies will be quite high, making them difficult to provide for every worker. But as they begin to be manufactured on a larger scale, ultimately perhaps they can be provided to every worker.
Didier
Currently, we are also doing a lot of work on AI for edge devices. A body sensor network should work for at least eight hours, but the computation is quite heavy. With a full body sensor network, many sensors are sending a lot of data into a small processing unit. A system must integrate this data, perform motion recognition and give feedback. So, this unit must be very energy efficient. We started working on deep learning and AI on each device to address this issue. So, edge AI and power-efficient AI are key technologies for compressing huge networks and making them more efficient for the body sensor network and intelligent objects.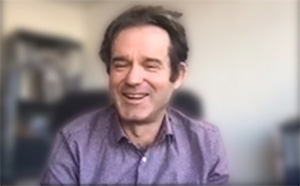 We also are working on a continual learning system. Currently, we collect and annotate data, train our network, and upload it. But everybody is different, so although we collect data from 40 or 50 people, there might be a worker with a musculoskeletal disorder or injury. We need a deep learning system that can adapt to that data on the fly and personalize the system for this person.
Tomokazu
Yes, edge computing is very important. We make models and train them in the cloud, often using significant computing resources. But, for more adaptability or flexibility, it may be good to train models at the edge. And, in the future, learning and also executing directly on the edge will be important.
Didier
Up until now with body sensor networks, we have kinematic information but not metric. For example, we know the physical joint, but we do not know its position in motion. Similarly, when someone is walking, we can capture the motion and approximate the distance walked, but we do not know the person's position in space. We can achieve good estimates, but they are prone to error because small errors accumulate quickly. We need to be extremely precise for applications like robotics. For example, for a human and a robot to work together, we need absolute positions to exchange tools or carry something.

A camera can be very precise if we do proper image detection, which helps improve measurements, but a camera alone in 3D is not precise enough. However, using one in combination with inertial measurement units (IMUs) and schematic information will be very helpful. We see these, especially in human-robot collaboration, as technologies we need.
Tomokazu
Skill education is an important area where this use of AI will be critical. We collect a lot of important skill information from veteran workers, so it is useful to share that information with novices using AI.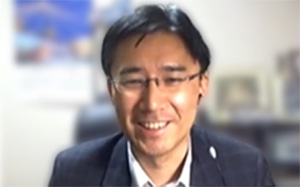 Another area would be to create more general efficiency within businesses. Important feedback areas are task management and status updates on manufacturing lines. For example, we could dynamically evaluate tasks to develop better assignments. That might include factors like daily progress, workers' preferences, and their previous performance and skills. Providing such information and applying good task management inputs to the total work environment would enable the sharing of this feedback with workers to improve the overall efficiency of manufacturing systems.