Ravi
Rajesh, how would you explain the Jacobs, Hitachi America R&D, and Hitachi Vantara trifecta? In my view, at Hitachi, we start with the question: how can we enable our customers to grow and succeed?

If we were a startup, Dragonfly may have been a less-than-perfect technology that needed a problem to solve. Thanks to our co-creation process with Jacobs, along with our experience in Japan, we started with solid understanding of the problem and were able to develop a solution for it. We're really walking in step with our customers and partners to demonstrate, validate, and build technology at scale and at the speed of the business. Would you agree?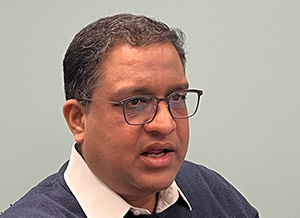 Rajesh
Indeed, I do. But I think we do more. We have Jacobs, which has unequaled domain expertise and technology expertise. We have Hitachi America R&D, which has great expertise in AI and machine learning as well as knowledge about the water industry accumulated from Hitachi's extensive experience in Japan. My understanding is that we deployed a solution like Dragonfly at a regional utility in 2021. As for Hitachi Vantara, we bring a good mix of infrastructure, hardware and software, and professional services skills. Vantara also provides commercial and scaling expertise as solutions like Dragonfly take on a life of their own and develop from a prototype stage to the commercial market.

So, in addition to co-creation, our partnership is about scaling. It's the right mix that works in partnership with customers to launch offerings that are competitive and differentiated in the marketplace. And that's really what our approach is all about.

We have many examples of where we've partnered with R&D and select partners, like Jacobs, to enable that and deliver business value to customers. The market is shifting towards designing specific outcomes for customers. The solutions that we provide are a classic example of that. They offer real value in terms of automation and improving efficiency and consistency by leveraging AI. That's what customers are expecting.

Hitachi is an industrial organization at large. Industrial AI is in our roots. How do we apply that in an innovation context and bring about clear benefits for industrial businesses? How do we support the critical infrastructure that underlies all these organizations? It's about the security and reliability of that underlying infrastructure.