Experiment and Discussion
To determine the best CNN architecture for the inspection system, images were captured from different piston rods with defects of nodule, dent, and scratch. 342 images with a resolution of 4096 × 262 pixels were used to train the CNNs. (Details of the CNN training and testing information can be found in our publication [5].) Utilizing the captured images, the CNN structure with the best detection accuracy was determined and implemented into the image processing pipeline as shown in Figure 4. It should be noted that defect aspect ratio and size information were used to classify defects of dent, nodule, and scratch, e.g., defects with an aspect ratio greater than 2 is considered a scratch, and diameter information was used to differentiate dent and nodule which have an aspect ratio equal to or less than 2.

Figure 4. Flowchart illustrating image processing steps
Figure 5 shows a sample inspection result, where (a) is the image captured from the camera, which is cropped from a 4096 × 262 frame to show the details clearly; (b) shows the processed image with labelling, where green rectangles are the detected nodules, blue rectangles are the detected dents, and red rectangles are the detected scratches.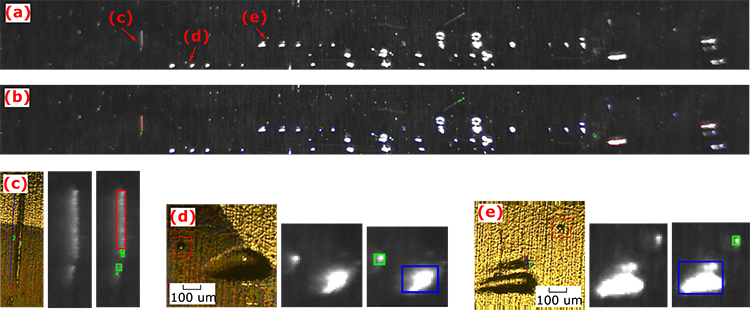 Figure 5. (a) captured raw image of a rod. (b) image after processing and labelling. (c) microscope image of a scratch with 30 µm width and 780 µm length. (d) microscope image of a 30 µm nodule (in red dashed rectangle) and a dent. (e) microscope image of a 25 µm nodule (in red dashed rectangle) and two dents
The corresponding microscope images, the captured image, and the labelled image of defects (c), (d), and (e) are also shown in Figure 5. The inspection results demonstrated that the current inspection system can effectively detect nodules as small as 25 µm and can differentiate nodules, dents, and scratches with a detection accuracy greater than 90% and sizing accuracy greater than 75%. It should be noted that using a higher resolution camera e.g., a 16K resolution camera, instead of the 4K camera used in this study will provide higher sensitivity.
With a processing time around 4 seconds per rod, high accuracy and sensitivity, the automatic piston rod surface inspection system that we developed can be utilized in real production environment to ensure the quality of the suspension component to maximize user riding experience for safety, comfort, carbon emission, and energy efficiency.
For more detail, we invite you to read the original paper [5] which was presented at ICMMM Sep. 2020.