Energy efficient connected and automated vehicles
To help realize this vision of a safer, more environmentally kind and comfortable mobility, my colleagues and I are focusing on how to improve the energy efficiency of the powertrain in CAVs using connected data, as the market shares of CAVs and electric vehicle (EV) powertrains are projected to grow globally from USD 8 billion to 66 billion, USD 47 billion to 568 billion by 2035, respectively [1, 2] and energy efficiency of powertrain will become a key issue.
One of the prerequisites in improving CAV efficiency is the ability to accurately predict driving speed [1]. We developed an AI based approach which we named, "Drive Horizon," where data from onboard sensors as well as connected data, are processed using AI-based predictive control to improve vehicle efficiency. Drive Horizon can also be effectively applied to internal combustion engines (ICE) as well as to hybrid or fully electric powertrains.
For example, let me explain how this works with a hybrid powertrain that consists of two sources of energy – ICE and electric battery. As shown in Figure 1, the power flow from the ICE and battery needs to be managed based on the driving situation, e.g., acceleration assist, regenerative braking etc. Thus, we need to be able to predict the vehicle's future speed to improve the efficiency of hybrid powertrain. A vehicle's speed prediction can be roughly divided into two categories – "short-term" and "long-term" predictions. As shown in Figure 2, idealized speed prediction for long term that has perfect accuracy gives the highest efficiency improvement of 6-8% [3]. In reality, however, due to the uncertain behavior of those on the road and changing weather conditions, predicting the future speed of vehicles is quite a challenging task. We therefore decided that we would focus on developing a "long-term" prediction technique using a combination of onboard sensors and real-time traffic data.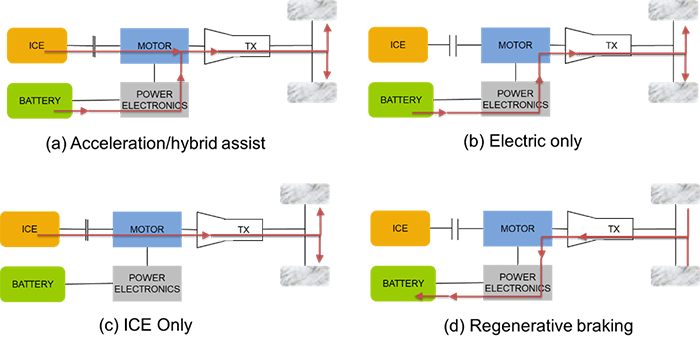 Figure 1. Electrified vehicle powertrain schematic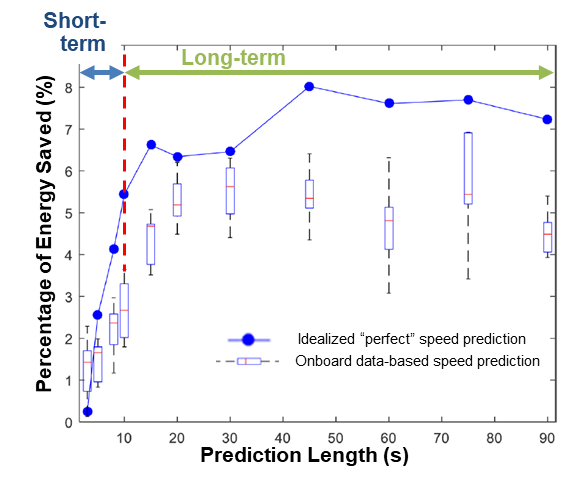 Figure 2. Energy saving percentage using speed prediction for hybrid-electrified powertrain [3]
Long-term speed prediction model
Figure 3 shows a schematic diagram of the technique we developed using variation neural network (VNN) that uses map, real-time traffic data, and vehicle speed as inputs and outputs the predicted speed. The model is composed of an encoder layer, latent space layer and decoder layer. The encoder layer converts the inputs of map, traffic and vehicle speed to latent space. The latent space learns the approximate statistical distribution of the input data by tuning neural network weights. Based on the statistical distribution of the latent space, decoder layer outputs speed prediction for next 1 kilometer. Since, the calculation of model uncertainty is essential for the robust control of vehicle and powertrain, the VNN output layer was modified to estimate vehicle speed and uncertainty together. We used a Ford F-250 vehicle which was instrumented as shown in Figure 4, to capture different drivers' vehicle speeds, traffic and map data which we then consecutively used to train the VNN model. The detailed experimental setup is explained in our previous study [4].

Figure 3. Variational neural network model for speed prediction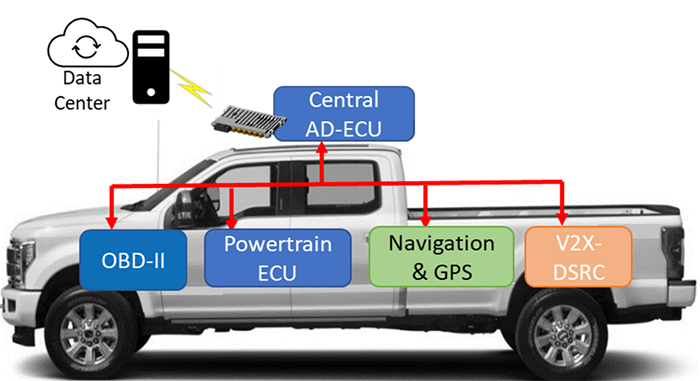 Figure 4. Experimental vehicle set-up