How we tackled the problems
To address the challenges mentioned above, we proposed an automatic minute generation framework that consists of segmentation, summarization, and argument mining modules. Figure 1 visualizes the entire process. Usually, we need reference summaries to train a neural-network-based summarization model but one major advantage of our approach is that we do not need reference minutes to automatically generate summaries from transcripts. We utilized a pre-trained language model(1) (BART) [3] with a focus on chat dialogue summarization, allowing us to generate concise summaries written from a third-person perspective and in written language without any additional training.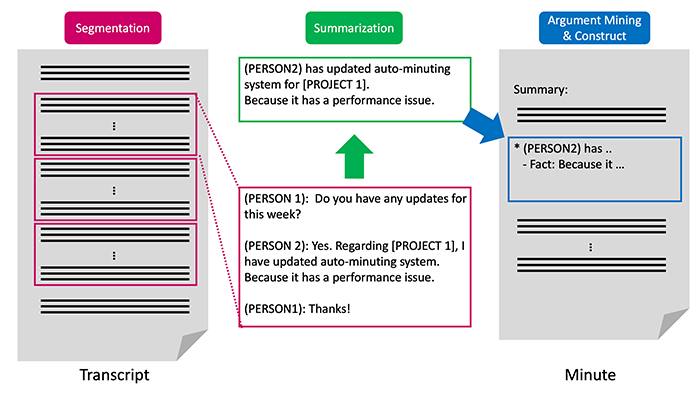 Figure 1. Overview of our approach
The segmentation module splits an input transcript into topic-specific blocks, which enables us to generate a summary per topic. As even state-of-the-art neural-network-based summarization models, including BART, are not yet able to process a long transcript at once, it needs to be split into some segments so that they can be accommodated by the models. This process is particularly vital in automatic meeting minute generation as most meetings are usually 30 minutes or more. The segmentation module also utilizes a pre-trained language model, specifically Longformer [4], yielding accurate segmentation results with a small amount of training data.
The argument mining module formulates a minute from topic-specific summarized texts, while reorganizing them so that they are consistent in structure. To compose such structures in a meeting minute, we first applied our argument mining(2) parser [5] which predicts an argumentative label for each sentence and the relationship between sentences. We then structured the minutes using predicted labels and relations in accordance with pre-defined formatting rules.