Combinatorial auctions for collaborative supply chains
Collaboration among multiple parties throughout the supply chain may improve resilience. In collaborative supply chains bilateral agreements between buyer and supplier are replaced or supplemented by multilateral agreements. Three major complications for multi-party collaboration in automotive supply chains arise. Existing bilateral contracts must be respected, procurement of parts needs to be bundled, and the delivery of parts is constrained temporally, to ensure available production capacity and minimise inventory.
We propose a framework and method for managing and optimising changes in demand among buyers and match it with excess supply capacity among several suppliers. The framework relies on a central coordinating agent, who receives information about changes in demand and supply capacity. This information is submitted to the agent by buyers and suppliers in the form of supply and demand bids, each of which represents a bundle of items. Each demand bid submitted to the agent specifies the quantity required of each item and the price the buyer is willing to pay for the specified bundle of items (e.g., for a car we may want to request one transmission, one engine, etc.). Likewise, each supply bid specifies the excess capacity (which may be negative) to produce each item as well as the cost.
Now, the coordinating agent will match demand bids with supply bids to ensure that as many demand requests as possible are fulfilled and prioritises high-price demand bids over lower priced ones, and low-price supply bids over higher priced supply bids (in fact the method maximises the total willingness to pay less the total cost of all accepted bids). The process is known as a combinatorial auction and optimises the allocation of available production capacity among multiple suppliers to fit the demand among multiple potential buyers. Finding the optimal matching of supply and demand bids is achieved by solving a combinatorial mathematical optimisation problem known as the Winner Determination Problem [1]. An example of a matching between different item types A, B, C, and D between two supply bids and two demand bids is shown in Figure 1. Our method includes additional temporal constraints and constraints related to the fulfilment of bilateral constraints.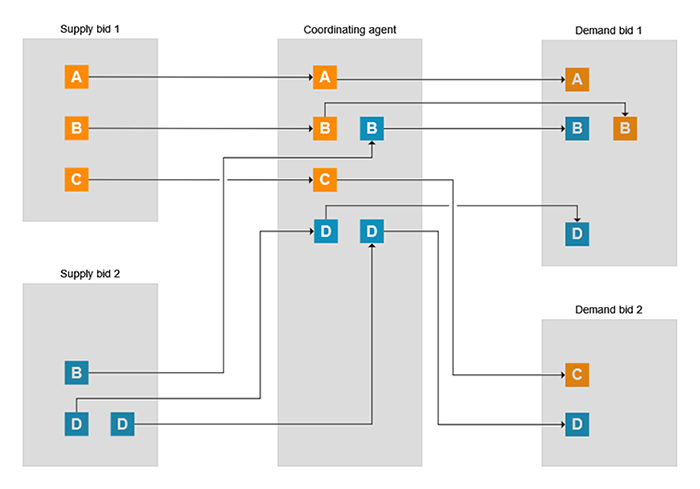 Figure 1. An example of a matching between two supply bids and two demand bids.
The example includes six items of type A, B, C, and D, that are all matched.