Proposed method and evaluation
Hourly water demand data was obtained from a medium sized water network from Hillsborough County, Florida (USA). Data was available for 10 months from March 2012 to December 2012. The average system demand was about 113.68 MLD with a standard deviation of 33.92 MLD. Preliminary exploratory data analysis indicated presence of daily, weekly and monthly seasonality in this dataset. Auto Correlation Functions (ACF) were obtained to analyze the seasonality associated with the data.
Figure 1 shows the methodology adopted for this study.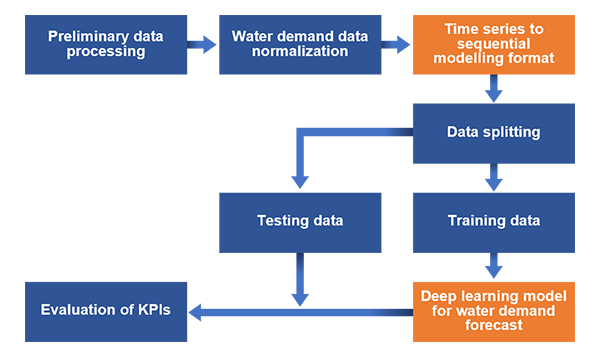 Figure 1. Study methodology
The core steps involved in the process are: (i) data normalization (ii) development of the sequence model/input data format (iii) defining the deep learning model architecture and (iv) model training and testing followed by evaluation. The latter step (step iv) is often carried out simultaneously with step (iii).
For the deep learning model, the length of the input size was varied from 2 to 14 data points. The equation below depicts the input-output data format used for the deep learning model, as in step (ii) of the methodology.
Qt=f(Qt-1,Qt-2,Qt-3 ,…,Qt-n)
In this equation, n is the size of input window in hours and Q denotes the flow (demand) in MLD, t denotes the timestep.
The output is the demand data for the current time step t. 75% of the data is used for training and the remaining for testing. The KPIs used for comparing these methods are Root Mean Squared Error (RMSE) value and Mean Absolute Percentage Error (MAPE).
As mentioned earlier, 5 different types of deep learning methods were used in this study. The hyperparameters were determined using grid search algorithm and all the models were implemented in python using Keras library. Adam optimization algorithm was adopted and MSE (Mean Squared Error) was used as the loss function for the weight and bias tuning.
It was observed that, the RMSE and MAPE values were minimal for values of n: 24 (1-day data as input). Also, it was observed that, CNN-LSTM performed better than other methods for demand forecast, followed by MLP. MAPE and RMSE values for the deep learning algorithms ranged from 5% to 25% and 9 to 20 MLD respectively. Figure 2 shows the actual and the predicted value (using CNN-LSTM) of demand for the test dataset for this analysis (RMSE: 9.952 MLD and MAPE: 6.776%).

Figure 2. Actual and predicted demand