Cyber-physical systems to change the manufacturing sites
What were other endeavors that you think were essential?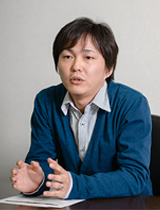 KAJITAIn parallel with the generation of robot operations, we worked to determine the design rules of products, which I believe was essential.
Like the case of electric wiring I mentioned before, there are operations that robots are not good at in the first place. Nevertheless, if robots cannot do many of the operations, human workers have to do almost everything. That raises labor costs, and thus increases the cost of manufacturing products.
Therefore, we reviewed product design and determined the design rules of products so that robots can be used for their production. The design rules indicate the design guidelines in cases where certain facilities or robots are used. This also provided an advantage that designers can design more easily.
Once the product design is made according to the rules to facilitate using robots for the assembly, the technology for generation of robot operations works more effectively. This has taught me that we need to focus on using robots and reviewing product design simultaneously.
NAKASUIt is easy to talk about changing how to design, but it is no easy task to actually do it. So Mr. Kajita explained its importance tenaciously, and people at the manufacturing sites gradually accepted the changes.
So technological development and the manufacturing sites are closely connected, aren't they?
NAKASUYou are right. The production lines are built based on elementary technologies, and products are manufactured on the actual sites. This is what I find interesting and rewarding in my job. Not just research, but we need to refine the facilities that can be actually used for mass production. I believe this is the best part of the work I am engaged in.
KAJITAMr. Nakasu and I had initially belonged to departments in charge of research that is more oriented to physical products, and were moved to the current department. In my view, we are now in a department that is exactly engaged in "cyber physical." This is a key word that has attracted attention in recent years, and means endeavors to fuse computers and the reality. What we calculate in the cyber space is applied to robots, or the real space, and let them actually manufacture products. It is a field of focused attention, and we can actually check how robots move according to the calculation results. This is really interesting.
What reactions have you received from within the company about the flexible production system utilizing human and robot cooperation?
KAJITAThe technology for generation of line configuration provides us the optimal production line configuration. So we need to prepare robots only in the required number. It seems this is a reason why the system was accepted. If we successfully receive an order for a certain product, we often cannot tell whether the product will be mass produced going forward, as the economy is not necessarily good these days. So people at the manufacturing sites want to reduce initial investment in facilities as much as possible. The flexible production system utilizing human and robot cooperation has successfully satisfied such a requirement, and I surely feel it from internal responses.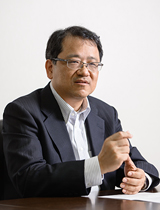 NAKASUWith the system, you do not need dedicated robots, and can do with what is sold as "industrial robots" in general. I think this was another advantage for the manufacturing sites. If specific robots were required, the system would not be applied readily and widely.
KAJITAHitachi itself does not produce industrial robots. So the customers outside the company may wonder what Hitachi would do with robots. Going forward, I would like to proactively provide information on this system through presentations at academic conferences and technical papers, etc., so that our customers would recognize it. On top of such an effort, we will repeatedly discuss with the customers and develop this field together with them. That's what I hope to achieve.