June 20, 2018
"Contributing to society through the development of superior, original technology and products" has been Hitachi's corporate credo since its inception. Even in the area of research, Hitachi is involved in basic research, building on this foundation to take on the challenges of cutting-edge technology to contribute to resolving challenges in society. This article interviews Dr. Shizu Takeda, Manager of the Hitachi Kobe Laboratory on research in "Regenerative Medicine." Hitachi has been conducting research in this field since 2002, and moved its research base to the Kobe Biomedical Innovation Cluster (Kobe-shi, Hyogo, Japan) in 2017, to begin activity as the Hitachi Kobe Laboratory. Working with partner companies and other research institutions, research & development is being pursued in the form of open innovation.
Taking the next steps for research in "Regenerative Medicine" through open innovation in an open research environment
Q.
Please tell us about the beginning of regenerative medicine research at Hitachi.
Shizu:
The first initiative by Hitachi in the study of regenerative medicine was an automated cell culture equipment. That was around 2002. In the beginning, researchers at the Mechanical Engineering Research Laboratory began development of the equipment. Soon afterwards, it was transferred to the Center for Exploratory Research ("CER"), formerly known as the Advanced Research Laboratory in Hatoyama-machi, Saitama, to begin research for an automated culturing equipment.
Q.
Why was the research base moved to Kobe in 2017?
Shizu:
Phase 1, the research stage involves taking something from 0 to 1, indicating that it is "technically possible." I think that we have pretty much completed this stage now. Starting from what no one else is able to do, we have taken the time to verify technically that equipment can be used for automated cell culturing.
The next phase is to verify whether the equipment is actually useful for regenerative medicine. Hitachi established the Hitachi Kobe Laboratory ("Kobe Lab") within the Kobe Biomedical Innovation Cluster ("KBIC"), and moved the research team outside of the company in preparation for this social implementation phase.
I believe that KBIC is the best place in Japan to conduct research to verify medical treatment. Here, together with medical doctors that use the automated culture equipment and pharmaceutical companies that provide cells for regenerative medicine, we can implement and verify the type of automated cell culturing equipment truly needed.
Automated Culture Equipment for Cells
Q.
The research partners in this open innovation in the field of regenerative medicine are Kyoto University and Sumitomo Dainippon Pharma Co., Ltd. Please tell me about each one's role?
Shizu:
Kyoto University, where Professor Shinya Yamanaka who was awarded the Nobel Prize and is the Director of the Center for iPS Cell Research and Application, is leading the world in this field. Kyoto University is responsible for basic research, applied research and as well as clinical research. Professor Jun Takahashi, also from the Center for iPS Cell Research and Application, provides day-to-day guidance on how to cultivate cells that are suitable for treatment as well as on cell quality and truly effective cell attributes.
Sumitomo Dainippon Pharma, which also has a research facility within the KBIC, on the other hand is conducting research and development on cultivating large amounts of cells for medical use in hospitals, using the processes for cell cultivation developed at the university for actual medical treatment. Together with such partners, Hitachi is developing automated culturing technology and process based on this research and clinical work that is capable of cultivating large quantities of high-quality medical grade cells for widespread use in regenerative medicine in the future.
Q.
Your partner, Sumitomo Dainippon Pharma, is also located in KBIC?
Shizu:
Yes that is right, they are located right next to the Kobe Lab, just about a 10 minutes walk away.
We were collaborating with Sumitomo Dainippon Pharma even before moving to Kobe. Researchers from Sumitomo Dainippon Pharma were invited to the Center for Exploratory Research in Hatoyama-machi, Saitama from the prototype stage. Once we reached the state where we had equipment capable of automated cell cultivation, it was decided that it was our turn to move our research base to where Sumitomo Dainippon Pharma had their research facility in Kobe so that we conduct research and development together. The research team at the Kobe Lab go to the Sumitomo Dainippon Pharma research facility where we installed the automated cell culturing equipment to conduct experiments together. Every day we are developing and experimenting towards its practical implementation.
Q.
You mentioned that the research today at the Kobe Laboratory is at a different phase from when the research team was at Hatoyama-machi, Saitama. What else is different since moving to Kobe?
Shizu:
CER is great environment for research. It is located among hills filled with lush greenery and provided a quiet environment for us to focus on Phase 1 of our research. Then for Phase 2 towards social implementation, we moved to the KBIC which is carrying out cutting-edge advanced medical treatment. We are aiming to develop equipment which can automatically culture high-quality cells for regenerative medicine. Currently, cell cultures are produced by hand, but only experts are capable of producing medical-grade quality cells. If medical-grade cells are only able to be cultured by certain skilled people, regenerative medicine will not become generally available.
There are many people at the KBIC that are engaged in medical research. If we were to just stay within Hitachi, it would be difficult to develop a truly useful automated cell culture equipment. We believe that conducting R&D here is the best environment to create truly useful automated cell culture equipment for the field of regenerative medicine.
Q.
Is there something about Hitachi that by moving to KBIC you have become aware of, such as characteristics or what makes Hitachi different from others?
Shizu:
One thing that I have felt is the strong faith that external organizations have in Hitachi. There is a great sense of expectation that "Hitachi will be able to do it." In the area of advanced medical treatment there is so much that no one has done before, and so safety and reliability are of utmost importance. I would like to respond firmly to this with Hitachi technology. Also, we have been taught by our senior colleagues in the company "that this is what makes Hitachi's Monozukuri." Hitachi's history is powered by making things like this. This concept of Monozukuri is the foundation upon which Hitachi's history has been built.
Q.
What are your impressions of the Kobe Biomedical Innovation Cluster?
Shizu:
One thing that I have noticed as a member of the KBIC is the amazing network. KBIC was promoted as disaster recovery project (after the Great Hanshin-Awaji Earthquake) by the City of Kobe, but what I found refreshing was how extremely enthusiastically the City of Kobe has promoted medical activity and industrial development.
There is a regular flow of visitors through introductions from the City among others. Although there are many that visit from within Japan, there are also many visitors from overseas as well, and it feels like true place of open innovation unrestricted by the boundaries of company or organization. Not only do we have a lab close to our partner's research facilities, but we are able to use this network to figure out how we can share this with the rest of Japan and the world.
Hitachi Kobe Laboratory joined the Kobe Biomedical Innovation Center in the Kobe Biomedical Innovation Cluster
Q.
What are your impressions of Kobe, and its charms, etc?
Shizu:
The night view in Kobe is beautiful. I can see the port town on my way home riding the Port Liner, and it is very refreshing. There is a real feeling of history from the old settlements and Western-style homes. This town has also taken in a lot of new and foreign ideas. It brings to mind a city that has been built by accepting people and things from outside. I think that the same can be said of the KBIC, and in a broad sense this is the essence of open innovation. The nature of Kobe in actively accepting new things and cultures has promoted open innovation in our field of R&D. That's a really attractive idea.
It just seems very appropriate that this town that has incorporated many new things would be the place where activities aimed at regenerative medicine, which has not been experienced by humankind before, would thrive.
Regenerative medicine today and in the future
Q.
What kind of medical treatment is regenerative medicine?
Shizu:
Regenerative medicine is a medical treatment that uses cells to restore bodily functions and organs that have been lost due to illness. The technology that allows these cells to be cultured outside of the body is extremely important for regenerative medicine. Automated culture technology to produce cell sheets is one technology that Hitachi has long worked on.
In terms how these cultured cell sheets are used, for example, they can be used to treat patients who have damaged cornea due to burns or chemicals. Mucosal cells taken from inside of the mouth of the patient can be cultured into a sheet using an automated culture equipment, and these cells can then be used to treat replace the damaged cornea.
The study of regenerative medicine using iPS cells sourced in this way is advancing. iPS cells take about six months to prepare but if there is a stock in advance, there is no waiting time. Sometimes the iPS cells are made from your own cells, but sometimes the cells are provided by other healthy people.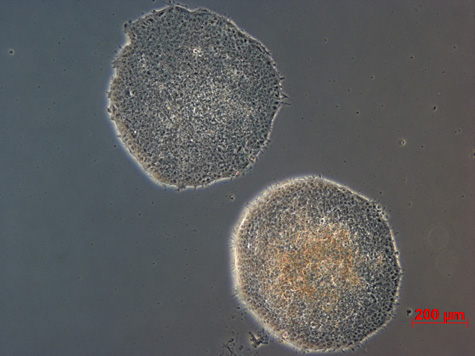 Human induced pluripotent stem (iPS) cells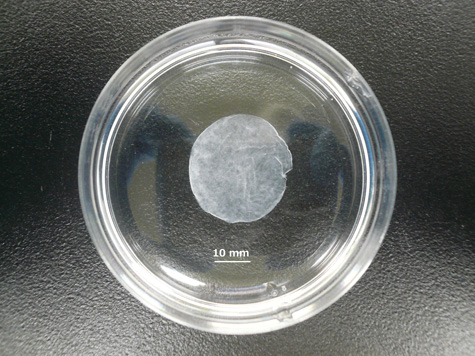 Automatically cultured cell sheet
Q.
Can cells be cultured?
Shizu:
Culturing technology for cells, itself has a long history. The difficult part is not just the culturing or increasing the number of cells, but the cultivation of functioning cells. The seed cells can be iPS cells, or cells from the patient themselves. The processing of the target cells, making eye cells for eye treatment, neuronal cells for nerve treatment and heart cells for heart treatment etc., is difficult and has been a challenge in the past. However, over the past 10-20 years, and particularly the last few years, research has progressed rapidly, and it has become relatively simpler to culture the underlying cells for internal organs outside of the body. It has been about 10 years since Professor Yamanaka produced iPS cells at Kyoto University, but since then this research on how to use iPS cells to produce various types of human cells has progressed, and it is slowly becoming a reality. The potential of iPS cells is really wonderful.
Q.
What is the difference between ES and iPS cells as discussed in the field of regenerative medicine?
Shizu:
ES cells are prepared from the inner cell mass of early-stage embryo. These are basically close to natural cells. ES cells (embryonic stem cells) are the natural stem cells (underlying cells) prepared from fertilized eggs. However, as ES cells are made from fertilized eggs there are also ethical issues. Professor Yamanaka of Kyoto University used adult cells which did not present such ethical issues, for example preparing iPS cells from the patient's own blood cells. This is why iPS cells are known as induced stem cells. They are human induced pluripotent stem cells with the ability to become various cells. The other point is that as the iPS cells are prepared from the patient's own cells to treat themselves, treatment with no immuno-rejection is also possible.
Q.
What are the current issues with regenerative medicine?
Shizu:
In terms of steps in clearing challenges in our research, we have just overcome the first hurdle. This was to process cells with automated equipment that were of the same quality as those processed by expert human technicians. The next step is to be able to develop an automated culture equipment capable of the stable mass production of cells of a quality exceeding that of experts. The quality of the cultured cells is extremely important in regenerative medicine, and the "fight against bacteria" is a major issue. There are microorganisms in the air, and if just one of these bacteria enters the culture fluid, their presence will increase exponentially and destroy the human cell culture in an instant. In this event, those cells cannot be introduced to the body. This is a very difficult process and maintaining the sterility of the equipment is key when culturing cells.
Role of Hitachi in regenerative medicine
Q.
How does Hitachi deal with open innovation, which has a major role in this research?
Shizu:
I believe that the era where you only need to be able to do one thing, or where a single organization can do it on their own is over. We have entered an era of working to do something for humankind by bringing together people from a variety of fields with various technologies and expertise to produce good things quickly. It is difficult for a single company to do this. I think that Hitachi is a company that undertook open innovation from a very early stage. In research and development, and particularly for CER to which the Kobe Lab belongs, I believe this is what is most sought-after. The mission CER is not research for existing businesses or the next product, but research to solve issues that may arise 10 and 20 years in the future; predicting future issues and working to resolve them. The vision is to try and make the world 10, 20 years into the future a little better. Today there is so much information available, and I believe that by using information effectively, we can accelerate research for human happiness. Alternatively, if we don't do that, we will be left behind by others. The speed of research and development is too slow if done the conventional way, and we will not be able to accomplish what we aim to do. Our research is based on a desire to efficiently conduct research and development that will be useful to the future society as quickly as possible by combining the strengths of many people both inside and outside the company.
Q.
How do you see Hitachi's role in the future of regenerative medicine?
Shizu:
More than anything else, Hitachi's strength is in its human resource with a wide range of backgrounds and expertise. The same can be said of the strength of the automated cell culture equipment; people who understand cell culturing, people who know how to mechanize it, people who understand control systems – so many experts of various backgrounds involved with this equipment. This is also a strength as we proceed with R&D collaboration with external organizations or open innovation. When I have a discussion with someone outside of Hitachi, I keep it in mind to have people with different expertise from the team in the discussion. Hitachi's diverse personnel is connected to its diverse capabilities. These strengths are brought to life, even in specific areas in regenerative medicine. Furthermore, the automated cell culture equipment which we are working to implement in regenerative medicine is only possible because of Hitachi's strong foundation in manufacturing. We need to carry on the spirit of manufacturing that Hitachi has cultivated. We also believe that it is important to be able to respond flexibly to change.
Q.
What are you looking at as ways to overcome the challenges and barriers in regenerative medicine?
Shizu:
We want to be able to contribute in a way that it will be said that "regenerative medicine changed in this way" or "regenerative medicine changed this much" due to the Kobe Lab. I would like to endeavor so that it will be said that, not only did we complete the R&D for the equipment, but medical practitioners in the field will say that "due to Hitachi's automated cell culturing equipment, we were able to treat many patients." I feel that this is a very rewarding job.
Hitachi Kobe Laboratory members
Profile
(As at the time of publication)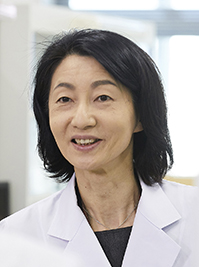 Shizu Takeda, Ph.D.
Corporate Chief Scientist, Research & Development Group,
(Concurrent) Laboratory Manager of the Hitachi Kobe Laboratory, Center for Exploratory Research, Research & Development Group, Hitachi, Ltd.
2001 –

Hitachi, Ltd.
After working in the Life Science Promotion Division, Shizu Takeda worked in the Central Research Laboratory, and the Advanced Research Laboratory, being appointed to her current position.

1997-2001

Postdoctoral Researcher, Graduate School of Pharmaceutical Sciences, The University of Tokyo

1995-1997

Postdoctoral Researcher, The Rockefeller University, USA

1993-1995

Medical Fellow, Harvard Medical School, USA

1993

Ph.D., Graduate School of Pharmaceutical Sciences, The University of Tokyo