Pursuing higher availability with linkage to storage
Batch processing and reorganization are possible 24 hours a day, everyday, without affecting online performance.
HiRDB can execute batch processing, such as data aggregation and mass-data storage, in parallel, with minimum influence on online service performance, thus supporting 24 hours a day, 7 days a week, non-stop service. HiRDB can commit the database at a desired time to create a moment in which all transactions are completed. In that moment, a consistent replica database can be created from the master database using the SAN high-speed volume copy for the Hitachi disk array system and other software mirroring functions. This enables online backup, batch processing, and reorganization that is independent of the master database. Since the master database and replica database use different volumes, there is very little reduction of online performance.
SAN:

Storage Area Network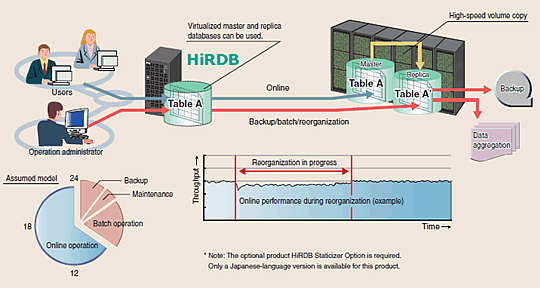 See larger picture in a new window
Example of using online reorganization
You can temporarily switch the database used for the online service to a replica database, and reorganize the master database without interrupting the online service. During reorganization, there is very little reduction of online performance.
Differential data in the update is automatically applied to the replica database.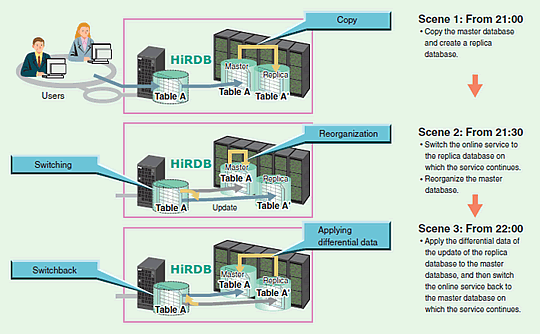 See larger picture in a new window