Information contained in this news release is current as of the date of the press announcement, but may be subject to change without prior notice.
September 17, 2021
Hitachi Building Systems Exhibits
in the "Hitachi Social Innovation Forum 2021 JAPAN,"
the Largest Scale Hitachi Group Event
Introduce its Latest Solutions for the New Normal Era
Through the Expert Session, Seminar and Virtual Exhibition Related to Smart Building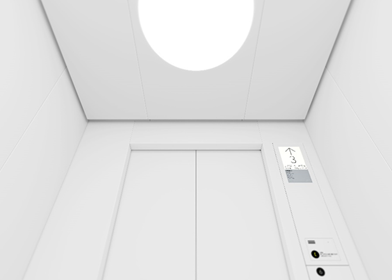 Standard Elevator for Japan Market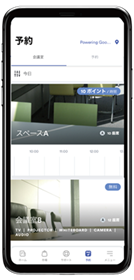 Screen for Smart Phone App of
Office Worker Solution (Image)
Tokyo, September 17, 2021 --- Hitachi Building Systems Co., Ltd. ("Hitachi Building Systems"), a wholly owned subsidiary of Hitachi, Ltd. (TSE: 6501, "Hitachi"), today announced that it will exhibit in the largest scale Hitachi Group event "Hitachi Social Innovation Forum 2021 JAPAN" to be held online for five days from October 11 to 15.
Due to the spread of COVID-19 infection, society and people's lifestyles have transformed. In April 2021, Hitachi and Hitachi Building Systems launched a new standard elevator for Japan Market that provides safety, security and comfort as the standard for the new normal(1). In August 2021, the company renewed its head offices as test sites for the new normal working styles and firstly introduced Hitachi Office Worker Solution(2) and Hitachi Building IoT Solution(3), Lumada(4)'s latest solutions in the building field, to demonstrate internally. We have been developing and enhancing products and services that anticipate the needs for the new normal era(5).
This event will be held for the 23rd time as an online event where people can participate in various programs via the Internet, following last year. Under the theme of smart buildings, Hitachi Building Systems, together with Hitachi, will introduce the latest solutions that provide new value for people, building systems, and society in the new normal era through expert session, seminar, and virtual exhibition that will be newly set up this time.
Exhibition Programs of Building Systems Business
1. Expert Session (October 13 (Wed.) 9:30-10:10)
"'Area Development that Contributes to Solving Social Issues' as Implemented by Tokyo Tatemono"
In business for more than 120 years, Tokyo Tatemono Co., Ltd. ("Tokyo Tatemono") is promoting enhanced ESG management through sustainable area development. This session will focus on the area development in the Yaesu-Nihonbashi-Kyobashi area as well as its company-wide sustainability initiatives. In addition, this session will also introduce Hitachi's initiatives in the field of smart buildings and discuss the value Hitachi can provide to Tokyo Tatemono Co., Ltd. and general urban development. The speakers are Masaaki Tomiya, City Lab TOKYO Founder/General manager, Urban Policy Office, Area Development Department, Tokyo Tatemono, and Hiroyuki Watanabe, Department Manager, Domestic Business Management Division, Building System Business Unit, Hitachi.
2. Seminar (October 13 (Wed.) 10:20-10:40)
"New Elevator Design and Services to Enhance QoL in the New Normal Era"
In this session, Hitachi Building Systems will introduce a new design for standard elevators that emphasizes the comfort of the passenger, created under the supervision of Mr. Naoto Fukasawa, one of Japan's leading product designers. In addition, the company will also introduce our new services as a "standard for the New Normal" that support safety and security for users and facility managers. The speakers are Takashi Tamura, Senior Manager of Promotion Planning Department, Marketing Division, and Kaoru Ishii from Products and Services Planning Department, Marketing Division.
3. Virtual Exhibition
"Building Common Platform to Provide New Value for Office Buildings"
The environment surrounding office buildings is dramatically changing due to the spread of COVID-19 infection and changes in working styles. We will introduce Hitachi building IoT Solution and Hitachi Office Worker Solution which are developed as new Lumada solutions in the field of buildings.
(1)

News Release dated April 15, 2021 titled "Hitachi Launched New Standard Elevator that Provides Safety, Security and Comfort as the Standard for the New Normal" (Japanese)

(2)

Article on "Hitachi Review 2020 Vol.69 No.6 'Technologies to Achieve Smarter Mobility: Achieving Safe and Comfortable Mobility and Urban Spaces'" titled "Workspace Solutions that Deliver a Better Experience for Office Workers"

(3)

News Release dated November 12, 2020 titled "Hitachi Develops IoT Platform for the High Value-added Buildings Required for the New Normal"

(4)

Lumada is Hitachi's advanced digital solutions, services, and technologies for turning data into insights to drive digital innovation.

(5)

News Release dated July 28, 2021 titled "Hitachi Building Systems Renewed its Head Offices as Test Sites for the New Normal Workstyles" (Japanese)
About Hitachi Social Innovation Forum 2021 JAPAN
Name
Hitachi Social Innovation Forum 2021 JAPAN
Date
October 11 (Mon.) to 15 (Fri.)
Host
Hitachi, Ltd.
Admission Fee
Free
(Please register in advance on the official website)
News release for Hitachi Social Innovation Forum 2021 JAPAN
Hitachi Social Innovation Forum 2021 JAPAN Official Site
Hitachi Elevators and Escalators Website
Hitachi Building Systems Brand Channel (Global Branding)
About Hitachi, Ltd.
Hitachi, Ltd. (TSE: 6501), headquartered in Tokyo, Japan, is contributed to a sustainable society with a higher quality of life by driving innovation through data and technology as the Social Innovation Business. Hitachi is focused on strengthening its contribution to the Environment, the Resilience of business and social infrastructure as well as comprehensive programs to enhance Security & Safety. Hitachi resolves the issues faced by customers and society across six domains: IT, Energy, Mobility, Industry, Smart Life and Automotive Systems through its proprietary Lumada solutions. The company's consolidated revenues for fiscal year 2020 (ended March 31, 2021) totaled 8,729.1 billion yen ($78.6 billion), with 871 consolidated subsidiaries and approximately 350,000 employees worldwide.