February 23, 2018
Hitachi, Ltd.
Vision Design Project awarded iF DESIGN AWARD 2018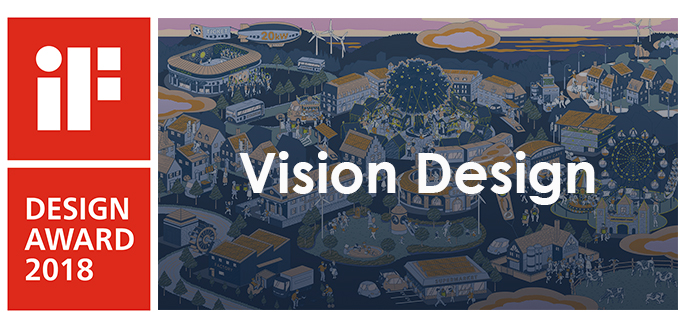 Tokyo, Japan, February 23, 2018 --- Hitachi, Ltd. (TSE:6501, "Hitachi") today announced that its "Vision Design Project" was awarded the iF DESIGN AWARD 2018 organized by iF International Forum Design GmbH.
The iF DESIGN AWARD is one of the world's most prestigious design prizes over more than half a century since 1953, and is consisted of 7 disciplines: Product, Packaging, Communication, Service Design/UX, Architecture, Interior Architecture, and Professional Concept. In this year's iF DESIGN AWARD, more than 6,400 entries were submitted from 54 countries/regions and they were rigorously examined by 63 design experts. The evaluation was comprehensively conducted based on the design features of uniqueness, innovation, functionality such as usability, and environmental friendliness as well as quality. This time, Hitachi's Vision Design Project was awarded in the discipline of Professional Concept.
The awarded Vision Design Project is an activity to lead discussions for realization of Society 5.0. Hitachi presents future images from the citizens' perspectives and challenges in realizing the future including those cannot be solved by technologies and those are principally caused by technologies themselves, and then offers visions(1) to resolve these challenges. Using this methodology, Hitachi promotes discussions with stakeholders including customers and partners.
(1)
Related information