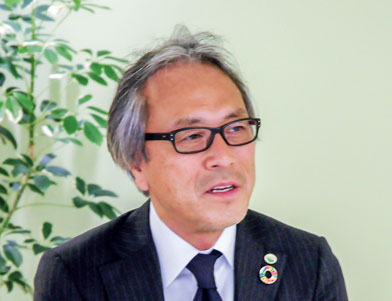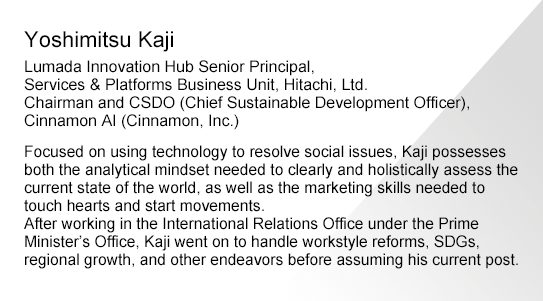 ―How did the elevator business evolve with the introduction of Lumada?
Kodama: Previously, we did everything independently, from the collection of elevator data to its analysis. As we began using more and more of Lumada's digital technologies and tools and working with other business divisions, we were able to create new services and solutions. For example, in 2019, we started providing a dashboard for managing equipment in buildings. With this dashboard, building owners and managers can check and change the operating or maintenance status of elevators from their computer or smartphone. Under the motto of "Visualize, Connect, and Move," we provide an assortment of services, including those for checking the status of recovery following a widescale disaster, controlling operation—for example, suspending or resuming elevator operation—turning the ceiling fan on or off, configuring the information to be displayed on the LCD indicator in each elevator, and viewing maintenance reports. Through these services and more, we help streamline building management work and ensure a safe, secure, and comfortable environment for users.
Going forward, we plan to expand our services to include those for visualizing the operating status of other equipment in buildings.
Kaji: Those are services that Hitachi is able to provide only because we provide both the elevators themselves as well as the maintenance services for those elevators. Recently, urban disaster prevention has emerged as a social issue, but with these services, I think people will be able to respond swiftly even in the event of a disaster.
Kodama: For example, suppose there's a building near a river. If the river is at risk of overflowing, the building manager can remotely send the elevator to a higher floor to prevent potential flood damage.
Kaji: Maintenance services that use Lumada's digital technologies seem like they would be useful in post-disaster recovery efforts too.
Kodama: Right. We're currently developing a system that would allow field engineers responding to a disaster-impacted region to swiftly make their way through even unfamiliar territory. Specifically, they'd be able to use their smartphones to check information such as the locations of target buildings and how to get into those buildings.
We also offer tablets for maintenance workers. These tablets come with a diagnostic tool that enables even less experienced engineers to promptly identify and locate malfunctions based on sounds, vibrations, or other signs. Developed based on data on over 900,000 malfunctions collected over a span of more than 30 years, the tool can be used not only to handle malfunctions but also to accelerate recovery after a disaster.
Kaji: E&E are an important part of urban infrastructure and, after a disaster, people need them to be back up and running as soon as possible. The key to that speedy recovery is the use of data and digital technologies, which Lumada helps to expand. I think that's quite significant.
Kodama: In terms of the use of digital technologies, we've been using VR*2 and AR*3 to train personnel. In 2019, we began providing safety training for field engineers at a special training center. This training uses VR goggles to simulate accidents involving falls in elevator shafts. We're also developing an educational system where trainees watch videos about elevators and cautionary points are displayed by using AR.
*2

VR: virtual reality

*3

AR: augmented reality