Co‑creation with Lumada! Enhancing collaboration among stakeholders
Improving operational efficiency and providing high‑quality care
Support for long‑term care recipients involves a variety of stakeholders, including their families, relevant medical institutions, care managers who consider various long‑term care services, and business offices that provide long‑term care services.
The delivery of long‑term care services needs to be made more efficient
Care services that support long‑term care recipients take many forms, including those providing life support and rehabilitation services in care facilities, and home‑based services (such as visits by home carers, visits by nursing staff, and day care). In particular, the use of home care services is expected to increase as the number of long‑term care recipients who want to live in their homes increases.
To provide fine‑grained responses to the diverse requests, we first need to secure the human resources needed for long‑term care. However, the declining birthrate in Japan has become a serious social problem, and the decline in the working population is progressing faster than was earlier predicted. For this reason, it is not enough just to secure the human resources, we also need to provide the long‑term care services efficiently.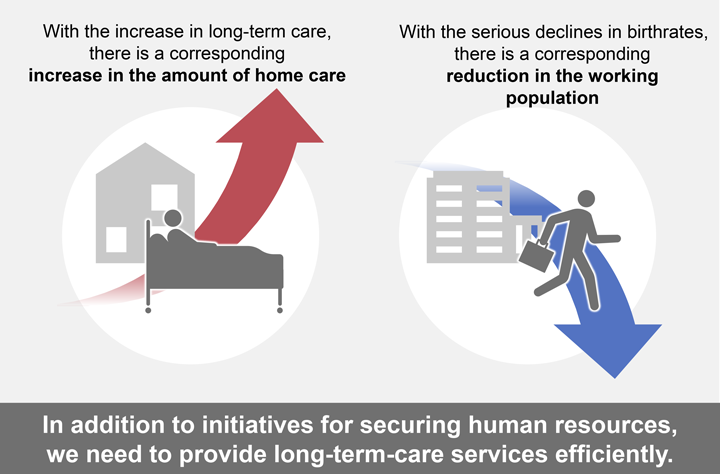 Achieving smooth collaboration among stakeholders
In home care, appropriate management of the health status of the long‑term care recipients is crucial. Digitizing relevant information and sharing it among stakeholders can lead to more appropriate and better quality care. Such information can include not only the daily information about long‑term care recipients (such as their body temperature and blood pressure, whether the person has an appetite, and their worries and anxieties) but also diagnostic and dosage information from medical institutions and information about the care services currently being received.
Hitachi supports the sharing of information to provide optimal long‑term care services while protecting the privacy of long‑term care recipients. When the medical and care data of long‑term care recipients is aggregated and managed appropriately, the data can be securely shared anytime, anywhere, and among a variety of stakeholders from multiple disciplines. When data sharing achieves smooth collaboration among stakeholders, the time previously spent communicating by phone, fax, or paper documents can be used to care for the long‑term care recipients, improving the quality of their home care. By utilizing ICT (information and communication technology), we can provide long‑term care recipients and their families with peace of mind and satisfaction.
Supplementary information: Integrated community care systems that solve social issues through community connections
By 2025, the baby boomer generation will be over 75 years old. In preparation, the national and local governments and various organizations are promoting the construction of integrated community care systems so that even if medical care or long‑term care is required, the care recipients can continue to live independently in their familiar communities as much as possible. Utilizing regional ties makes it possible to respond to social issues such as the decrease in the working population due to the declining birthrate and the increase in the number of people who wish to receive care at home.
The five elements:

Japan's Ministry of Health, Labour and Welfare aims to build integrated community care systems that comprehensively provide five elements: housing, medical treatment, nursing care, prevention, and life support. Such systems will enable the elderly to continue to live safe and secure lives.

The four types of help:

An integrated community care system is an initiative to solve issues in daily life by combining four types of help: self‑help in which one cares for oneself, mutual help in which family members and community members help each other, mutual aid services such as long‑term care insurance and medical insurance, and public assistance in which the government provides support.
For example, participation in volunteer activities by the elderly adds interest and meaning to their lives so the participation is a combination of self‑help and mutual help, in which people close to each other help each other. When public assistance is added to such activities, it is a combination of three types of help: self‑help, mutual help, and public assistance.
For an integrated community care system to function, stakeholders from multiple disciplines need to work in collaboration. The higher the number of people involved, the more benefits we can expect from using ICT to link those people.