Date
January 13, 2016
Title
Hitachi Opens New California Research Facility for Collaborative Creation in Social Innovation
Release Digest
Hitachi, Ltd. and Hitachi America, Ltd. today announced the opening of a new dedicated research facility, the Global Center for Social Innovation - North America (CSI-North America), for collaborative creation with strategic partners in industry and academia. The new facility, located in the heart of Silicon Valley in Santa Clara, will serve as a dedicated research and collaboration center, and represents the first regional Hitachi R&D center outside of Japan to offer Hitachi's collaborative creation process to business partners.
Hitachi America's R&D Division was established in 1989 with the original purpose of being close to advanced markets in order to better understand trends and work with leading partners. This closer proximity enabled Hitachi to further develop such business areas as automotive systems, storage virtualization, broadband communications, harmonious computing and other cutting-edge technologies that serve customers.
CSI - North America, the regional center for the Americas, carries on this tradition leading the Hitachi research organization in applying a "market-in" approach to develop innovative solutions with strategic partners, focusing on market opportunities in areas such as energy & natural resources, transportation, telecommunications, healthcare.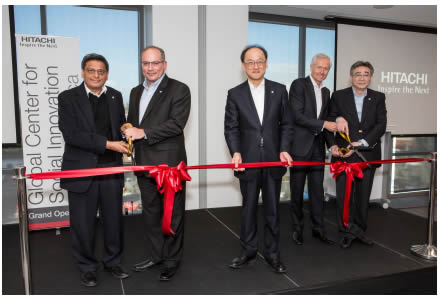 Ribbon cutting