Date
August 3, 2016
Title
Hitachi develops high performance data processing technology increasing data analytics speed by up to 100 times
Release Digest
Hitachi, Ltd. today announced the development of a database management system optimized for the high-speed embedded memory in the hardware (FPGA*1) and technology for high performance parallel data processing in FPGAs. Using these technologies, speed of data analytics was successfully increased by up to a maximum of 100 times compared with not using these technologies. Further, the two technologies developed were combined with "Pentaho Business Analytics," a business analytics software*2 developed by Pentaho Corporation (a Hitachi Group company) to visualize business analytics results, and with flash storage for data storage, to create a prototype real-time data analytics system. The prototype will contribute to realizing self-service data analytics enabling employees in the field to easily and quickly execute data analytics on massive business data.
Hitachi plans to exhibit these technologies at the Flash Memory Summit 2016, to be held from 9-11 August 2016 in Santa Clara, California, USA.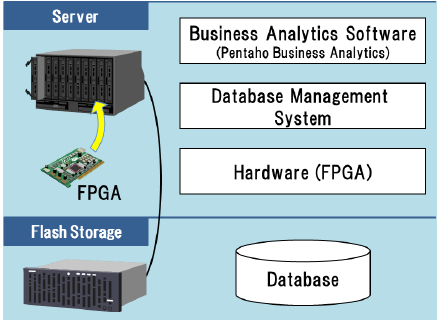 Configuration of the data analytics system
*1

FPGA (Field Programmable Gate Array): An integrated circuit manufactured to be programmable by the purchaser. In general, FPGA is inexpensive compared to application specific circuits.

*2

Business analytics software: Software to specify how to analyze the data and view the results.