How to reduce the processing load on CPUs
You were able to take advantage of knowledge in the two fields of storage development and database development?
WATANABEIn the data analytics conducted to date, CPUs had to process all data including the data not used for analysis. As the data volume becomes huge and the data is accessed more often, it is only natural that CPUs have more loads and cannot fully conduct processing. So, we focused on how to reduce the data volume CPUs have to process, and started our activities by discussing the direction of the research and development by sharing mutual research results.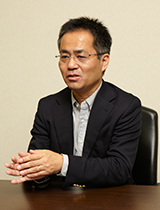 FUJIMOTOBecause our specialty fields were different in the first place, often there were gaps in our discussions for the first year. However, after we fully gave our comments and held thorough discussions, we were able to conduct development in good coordination with each other.
In the research, we studied methods to conduct minimum data processing in advance so that the data volume handed to CPUs is reduced. Specifically, "filtering processing" and "aggregation processing," which are often used in data analytics, are first conducted by field-programmable gate arrays (FPGAs), and the processing results are then transferred to CPUs. This reduces the load of processing conducted by CPUs. In doing so, a technology to directly transmit data from storage devices to FPGA boards is needed. Our storage team was in charge of the development for this part. We had to consider how directions should be given to FPGAs based on the users' demand for analysis, and how data should be transferred back and forth between storage devices and FPGAs as well as between FPGAs and CPUs. Such technology did not exist before, and we often had to struggle.
WATANABEOur database team developed the technology to align column-store databases with FPGAs. We had precedents for combining conventional row-store databases and FPGAs but not for column-store databases. There were big differences in everything, such as how the data is lined, held and processed, between row-store databases and column-store databases, and we had a hard time developing the technology. On top of this, we elaborated on how to store and process data in the databases to realize the required processing speed.
What specific ways did you devise to do it?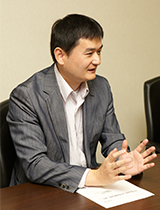 WATANABEThe first was the data format, or how the data is stored. Column-store databases have "data management information," aside from the data itself, in order to manage how the data is compressed and where the data is stored. The data management information is like a dictionary that shows where the data is allocated, and must be referred to whenever the data is accessed. To reduce the CPU loads and increase the processing speed, you need to bring the data management information to FPGAs for processing. However, if the data is stored in an ordinary manner, the data management information is bigger in size than the memory capacity of FPGAs. That's why we worked to divide the data into smaller pieces and store them so that the size of the "dictionary" is within the memory capacity of FPGAs.
The second was increasing the speed of database processing conducted by FPGAs. To increase the processing speed of FPGAs, you can apply either parallel processing or pipeline processing. However, for column-store databases, it is rather difficult to employ these methods because of the issue of the order in which the data is lined. Therefore, we worked so that filtering processing can be done in the column format and, for aggregation processing, we reconstructed the column format into the row format for processing. By doing so, we achieved a faster processing speed.
FUJIMOTOIn fact, the technology to offload database processing to hardware devices has existed for nearly 30 years. But it has gathered little attention, because technological improvements in CPUs were achieved at a faster pace. In our development, we re-used the technology and applied it to the column-store databases. We also endeavored to figure out where to conduct parallel processing and pipeline processing. All these efforts have achieved a data analytics speed that is 100 times that using conventional methods. This achievement justified the hard times we had to go through, as we experienced a lot of trouble in development, both for storage devices and databases.
Figure 2: Overview of the data processing technology utilizing FPGAs