Date
October 26, 2016
Title
Hitachi Fellow Dr. Hideaki Koizumi Honored with the 2016 Friendship Award by the Chinese Government
Release Digest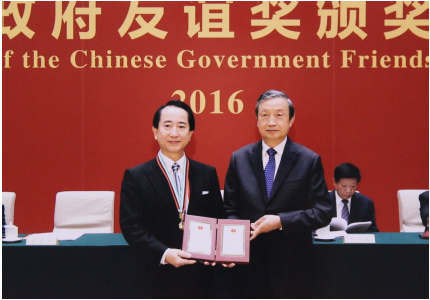 2016 Friendship Awards Ceremony
Hitachi, Ltd. announced that Hitachi Fellow Dr. Hideaki Koizumi was conferred the 2016 Friendship Award by the Chinese government.
Established in 1991, the Friendship Award is a prestigious award presented each year to 50 foreign researchers and educators who have contributed to China's modernization and the exchange of goodwill between China and other countries in areas such as society, economy, science and technology, education and culture.
The Award recognizes Dr. Koizumi's work in the research and development of topics such as "the creation of educational concepts based on Brain Science" and "the development and social implementation of various measurement principles," and for his collaboration with Chinese institutions spanning over almost 20 years.