Date
December 12, 2017
Title
PARTNERS CONNECTED HEALTH AND HITACHI DEVELOP AN EXPLAINABLE AI TECHNOLOGY TO HELP DOCTORS PREDICT READMISSIONS AND IMPROVE PATIENT OUTCOMES
Release Digest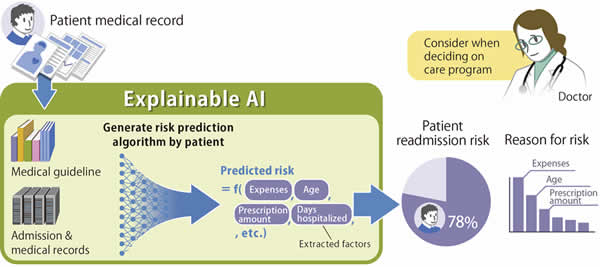 Example use situation/case of this AI technology in predicting readmission risk
Partners Connected Health and Hitachi today announced the development of artificial intelligence (AI) technology by Hitachi, in collaboration with Partners Connected Health, which can predict with high accuracy, the risk of hospital readmissions within 30 days for patients with heart failure. The AI technology helps select appropriate patients to participate in a readmission prevention program following hospital discharge, and can explain the reason why patients were identified as being at high risk.
The 30-day readmission rate is regarded as one of the important indicators in hospital management, and can carry significant penalties for hospitals via the US Centers for Medicare and Medicaid (CMS) as part of the Affordable Care Act.
Hitachi and the Partners Connected Health Innovation team will jointly conduct a prospective study, which evaluates the prediction program by clinicians, and study how to integrate this within clinical workflows. By using this new AI technology, Hitachi will provide solutions for the medical field, including solutions for insurance and pharmaceutical companies, emergency services, and other healthcare services where prediction-based on medical data can be utilized.