Date
May 28, 2018
Title
Multiple AI coordination control that realizes efficient warehouse picking by integrating control of robotic arms with AGV
Release Digest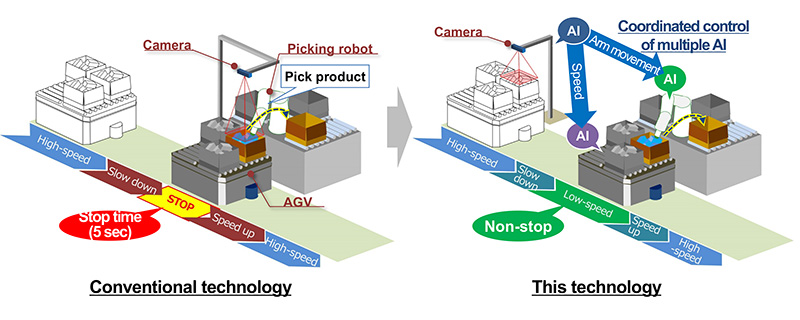 Comparison of technology to remove products from an AGV using a picking robot
Hitachi today announced the development of multiple AI coordination control technology that increases the efficiency of the picking process by integrating the control of the picking robot and automated guided vehicle (AGV) to smoothly pick-up specific products from goods carried by the AGV.
The AGV and robot arm can move closer to each other at optimal speeds to avoid collision based on the state of the goods stacked on the AGV, enabling smooth picking by the robot arm without stopping the AGV.
The results of a comparative experiment using conventional technology where the AGV is stopped each time for picking, confirmed that the time required for picking could be reduced by 38% with the new technology. Hitachi will work towards the commercialization of a robot system for warehouse operations as well as contribute to increased efficiency in logistics through development of technology to increase the speed and automation of processes.
The design of the trajectory planning and fine adjustment function for the robotic arm, necessary for this technology, was developed in collaboration with the University of Edinburgh, U.K.