Technology Details
(1) Applying CMOS annealing to calculate an optimal portfolio for arbitrage trading
We formulated the problem of finding an optimal mean-reverting portfolio as a combinatorial optimization problem by expressing objective functions and constraints to be considered in the arbitrage trade. We found that these objective functions and constraints could be expressed as a QUBO problem, which can be solved by CMOS annealing efficiently.
In this approach, CMOS annealing is able to calculate an optimal portfolio and present it to the trading system at high speed (Fig. 1). In real complex financial trading, it is required to consider many indicators and constraints which results in increasing the number of terms included in the QUBO formulation. However, the calculation time of CMOS annealing depends not on the number of terms but on the number of variables, which is determined by the number of stocks considered in the QUBO formulation. Therefore, our method can realize practical and fast arbitrage trading under many indicators and constraints.
(2) Simulating financial trading in cooperation with CMOS annealing
To check the impacts of indicators and constraints considered in the arbitrage trading strategy, it is required to perform a prior evaluation (backtest) of the strategy by numerical simulations using past market data. We developed a trading simulator with CMOS annealing, which makes it easy to carry out backtests while changing strategies or past data. Figure 2 shows a result of an arbitrage trading simulation using an exchange-traded fund and an optimal portfolio. Here, the price difference between the exchange-traded fund and the portfolio was optimized to be mean-reverting (top left in Fig. 2). The arbitrage profit was evaluated from the price difference (bottom left in Fig. 2). By performing backtests using approximately 100 stocks while changing the past data, it was confirmed that CMOS annealing constructed an optimal portfolio within a few seconds and the arbitrage trades by the portfolio indeed produced profits in the numerical simulations.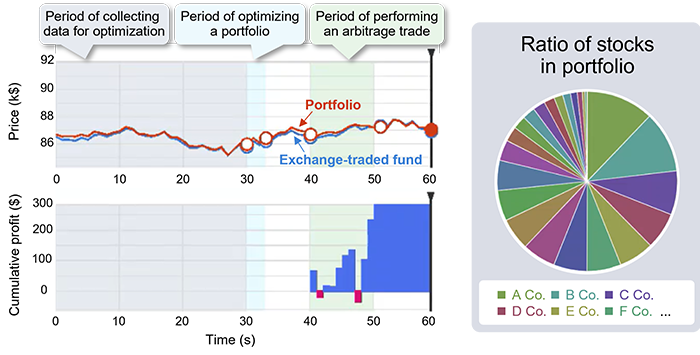 Illustration of the trading simulation in cooperation with CMOS annealing
Going forward, we will collaborate with our clients to carry out trials of this technology for various high-speed financial trades. Furthermore, we will also expand this technology to other business applications requiring an optimal combination of operations in real time, e.g., manufacturing process control and traffic signal control, and contribute to solve complex social issues.