From the special issue of the design magazine "AXIS"
Interview and text by Reiko Imamura / Photos by Sayuki Inoue
Hitachi Design has ever shifted its shape to accommodate the demands of contemporary society.
While the possibilities enabled by design are becoming more widely recognized, design shines brighter and farther in co-creation with engineers. At the heart of this idea is the Global Center for Social Innovation established in 2015.
We spoke to its general manager, Masakatsu Mori, about the future of Hitachi Design.
Expanding the possibilities of design
Hitachi Design got its start in 1957, but there have probably been several turning points in that history, haven't there?
There have been three major turning points. The first was in the 1990s. We'd been focused primarily on product design up to that point, but then designers specialized in cognitive psychology and information engineering joined the fold.
So, we started creating communication design concepts and prototypes for information systems and solutions.
Going into the year 2000, we branched out into different kinds of projects, and our ratio of product design and communication design was about evenly split. The former's design and style communicated Hitachi's brand, and the latter took on more projects in interface and web design that had to do with the widespread adoption of IT. This is also the era we started going full tilt with service design and visualizing concepts with videos.
The next turning point is after 2007, the 50th anniversary of the inception of the design department. Our design headquarters had been split between Kokubunji and Aoyama until then, and we integrated them at Akasaka and organized our design activities into broad fields: products, communication, services, and solutions. It was at this point our design could no longer be done by our designers alone. We had designers and engineers start upstream by creating concepts and visions, and we also began involving our clients.
We called this the dialogue process (customer co-creation methodology) and began drawing it up at Hitachi Design.
Books, tools, and other materials describing the methodology were produced thereafter in increasing numbers. These were systematized in 2015, and their collective knowledge was shared in the form of NEXPERIENCE. This also served as a proclamation that Hitachi will bring about social innovation on all sides—with designers and engineers in development, users, and various stakeholders.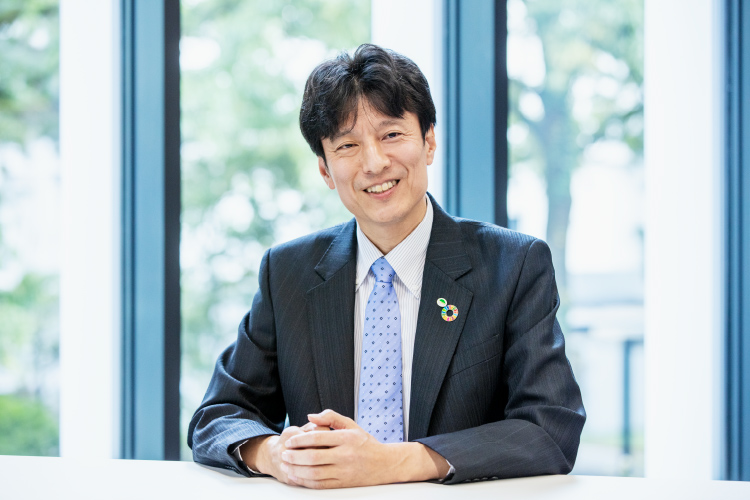 You were in a position to coordinate advanced technological research at R&D until 2020. How did you as an engineer view Hitachi Design?
In the mid-2000s, we were developing solutions that would bring new experiential value to users by combining large-screen TVs just appearing on the market at the time with mobile phones and RFID. That's when I learned that combining design with solutions development makes great things happen. Until then, I had the impression that designers were people who were good at art and drawing beautiful shapes. But after working with them, I realized designers are people who think about the essence of a task with a wide lens.
Design thinking and ethnographic research were taking off in North America around that time, and we at Hitachi were also starting to focus on experiential value. I had my own experiences too to inform my belief that the possibilities of design are massive. In fact, from that point on, the spread of design into various fields started gathering speed.
Linking Society: A design philosophy
So then, in 2020, Hitachi formulated the design philosophy, the Linking Society.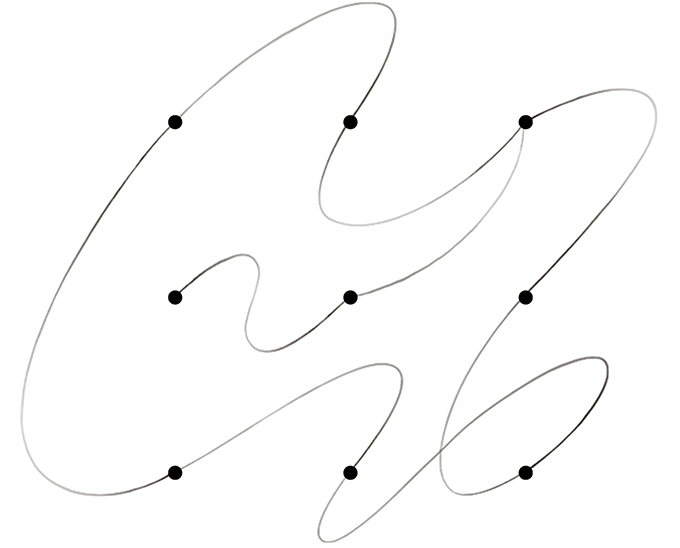 We're now designing a wide range of things, not just products. Even as our overseas projects increased in number, we were still being asked what Hitachi is designing and how. The answer was always tacitly understood within the company, but we decided to make the implicit explicit in the spring of 2020 and started a project to formulate our design philosophy. We used online tools to hold open discussions, so anyone from Hitachi could participate. In the fall, we organized the Linking Society.
This can be taken to mean Hitachi will design society, not commodities.
Whether products or interfaces, Hitachi has been expanding toward designing mechanisms and systems, services and solutions these past 20 years. So, for us, the Linking Society is not a language we find surprising. Linking carries the nuance of being more flexibly joined than simply link or connect. This flexibility is important; it has its background in Hitachi's long history of working on social infrastructure. Infrastructure is something unobtrusive, something that gently supports people's lives. Especially now, in the COVID-19 pandemic, many things are divided and separated from each other. Our people at the Global Center for Social Innovation are surely rediscovering what it means to change the world by linking flexibly.
The Global Center for Social Innovation (CSI) was established in 2015. Why was the word design removed from the center's title?
Co-creation is to create together. We shifted in that direction because it had become clear to us since the 2000s that social innovation would occur when the design was introduced upstream in the development process. We experimentally started this format as a co-creation center to express our intent to create together outwardly in the name itself. Six years since CSI's inception, this mindset of creating a new world together with our clients and stakeholders is now a given.
How do designers and engineers balance working with each other?
Within CSI, there's a team that specializes in co-creation with clients. There's an even split of designers and engineers working on that floor. Both of their initiatives change depending on the nature of the project or what phase they're in. Designers are good at pinpointing early-stage problems experienced by clients, and engineers work front and center in the tech implementation stage. They coalesce so they don't have to bother with separate roles, and they naturally balance the work between them.
Meanwhile, we also have designers and engineers who sharpen their expertise. Those like the former, who reach laterally into each other's territory, and those who carve their own specialized path—both types of people are crucial to CSI.
Is the number of co-creative projects increasing?
It's increasing in many different fields and regions. The co-creation process is no longer the domain of CSI alone but also of the business division. We're seeing shifts, like personnel in the business division propelling projects themselves, and Hitachi as a whole bringing in data scientists, design thinkers, and other people who can take part in co-creation. Within Hitachi, we're becoming an organized, collective leader in the framework of co-creation.
Does that mean Hitachi's management values design highly?
Yes, that's how I see it.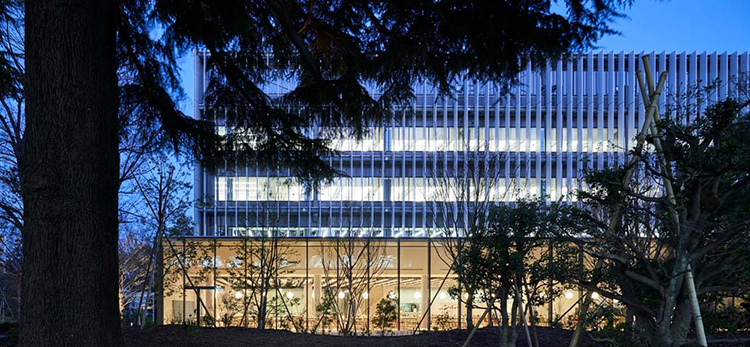 The Kyōsō-tō in Kyōsō-nō-Mori within the Central Research Laboratory in Kokubunji, Tokyo.
The co-creation methodology NEXPERIENCE
Could you tell us about Hitachi's NEXPERIENCE?
NEXPERIENCE is a systemization of the methodology we use to collaborate with our clients and co-create social innovation. To note, Hitachi has used collaborative creation methodologies like vision design and ethnography since around 2010. NEXPERIENCE is a collection of methodologies that came into being in different projects and existed independently.
What specific methodologies and tools are included?
Everything is categorized into three major phases:conception, implementation, and business expansion.
At the initial conception phase, we employ ethnography to highlight issues through observation of stakeholders and processes as well as business opportunity discovery methods to glean future insights. At the implementation phase, we employ collaborative business model research, like business origami, and service design methodology. There's also a Cyber–PoC (that is, proof of concept) to verify business concepts in cyberspace. What methodologies are introduced in which phase all depends on the project and the client's role.
Are there any design features unique to Hitachi?
Because Hitachi has a wide range of projects, there's much we can accomplish through co-creation. Conversely, there's a need to push projects forward efficiently with few personnel. That's how we arrived at putting together a methodology of design know-how. We take on new challenges in each of our fields and then share and expand upon the knowledge and experiences accumulated there in a visible form. This is something very important not only for Hitachi but also for contributing to society.
It seems noteworthy that methods and tools are being digitized.
It is. Hitachi's Lumada includes some digitized NEXPERIENCE tools. But that doesn't mean NEXPERIENCE is software. It's provided as a tool for co-creation with our clients. In fact, we use digital tools in remote workshops during the pandemic. We also use it in educational programs to develop our human resources who will be taking part in co-creation.
The mindset Hitachi looks for in designers
Hitachi Design's traditional way of thinking is the human-centered mindset.
We've always thought of our being human-centered as part of our uniqueness, but these days everyone is saying so, and I think society as a whole is returning to human centricity. Designers observe people before they design, right? Even if they're designing robots, they first consider the relationship robots have with humans. If they want to solve a problem, they have to observe people, so long as people are in the picture at all. In that way, I don't think the passage of time changes the principle of designing based on human values.
Lastly, what will Hitachi require of designers in the future?
I think it will become necessary to fly the banner of Linking Society and link up in various situations. Linking up people experiencing challenges to those who can solve them, linking ideas to businesses that can execute them, and linking individual joy to the collective joy of society, for example.
We hope to be an entity capable of supporting these things. So, we'll be looking for people who are curious about new things and who face off against challenges in an uncertain world. On top of that, someone with expertise in engineering, business, or what have you, in addition to design, and who can demonstrate problem-finding ability as well as problem-solving ability and imagination.
Someone like that, I suppose. We no longer live in an era where work will come to those who wait, but instead in one where progress doesn't happen without someone taking the initiative. We have to ask ourselves questions, think about what needs to be solved, and review and solve it ourselves. I'm hoping many people with that kind of mindset, who are always wondering how they can contribute, will make their way to us.
Profile
(As at the time of publication)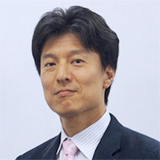 Masakatsu Mori
Joined Hitachi after obtaining a master's degree from the Graduate School of Engineering, Kyoto University, in 1994. Responsible for research on new services and solutions using cutting-edge digital technologies in Hitachi's Systems Development Laboratory. Serves as visiting scholar at the University of California, San Diego from 2003 to 2004. Leads the Planning Office at the Yokohama Research Laboratory and Production engineering R&D, before taking the post as corporate CTO of European R&D and general manager of the European R&D Centre of Hitachi Europe in 2018. Takes the post as general manager of the Global Center for Social Innovation and general manager of CSI-Tokyo in 2020. Holds a Ph.D. in information science and technology.
Design Platform