Developing a metaverse for railway service using generative AI
Imamoto:Now I'm researching the application of metaverses to railways. In railways, a metaverse is likely to be used in a wide range of areas, from simulation of rail track work and service, detecting abnormalities, simulating vehicle assembly and maintenance, and feedback on design and manufacturing, to improving issuing of instructions in response to transport obstacles and designing and maintaining comfortable train station spaces.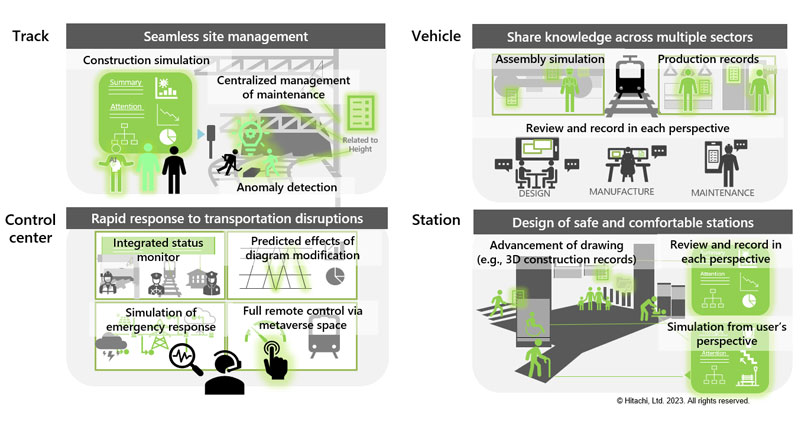 At the R&D Group's Ibaraki site, we used five projectors to create a metaverse facility, where humans can enter into the space and experience an environment. Here, we're replicating the railway metaverse and the vehicle metaverse. You can experience forwards, up, down, left and right, without using HMD.
One of them, the railway metaverse, has been made by taking lots of photos in a real railway environment and composing a 3D model from the photos. it's just a 3D model in itself, but it's displayed in a metaverse space and overlaid with displays of operational and maintenance information.
One of the use cases for this metaverse is rail track service. We display an image of the tracks in the metaverse, and you can see how the track section has been overlayed with red and green displays. The red shows where there may be abnormalities in the track, the green is where everything's fine. From the rail track image, we're using AI to check for abnormalities.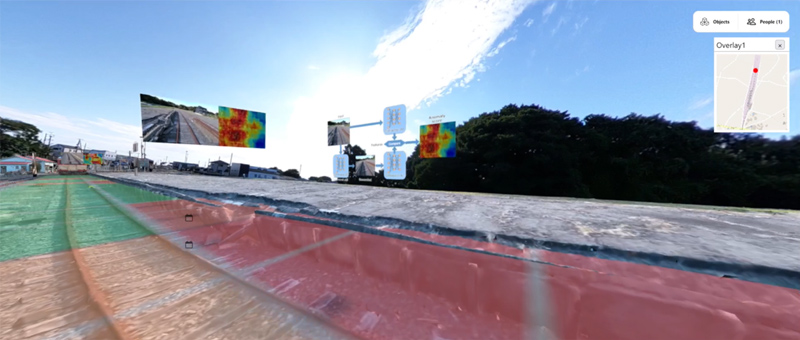 Fujiwara:We're using an image-generating AI to identify abnormalities. First, we get it to generate a "normal" image of a track. When an image is input the AI changes it to a normal track image, because it's learned from a lot of normal track images. If an image caught with a camera at the front of a vehicle is input to the generative AI, it will output a normal track image, whether things are normal or not. When there's an abnormality in the input image, comparing the input and output images reveals a big difference. When that happens, the display is overlayed in red.
There are all sorts of abnormal situations relating to rail service, including track abnormalities, or cracks in platforms and other facilities, for example, or fires along a line. But it's difficult to get your hands on a lot of images of abnormalities, so getting the AI to "learn abnormalities" is unrealistic. Conversely, there are lots of images of normal tracks and platforms and lines, so what's effective is to create an AI that generates a normal image, and then take in the difference.
Imamoto:That's right. So then what happens is that an AI that identifies the type of abnormality kicks in. There too we use a generative AI that creates a specified abnormal situation once an image of the normal situation is input. We make it learn images of breaks in rails, cracks in platforms, and fires along lines and when images of places it's been decided are abnormal are input, the AI generates images of breaks, cracks, and fires. It then compares those with the input image and identifies what type of abnormality is present. I said a moment ago that there's not a lot of data on abnormalities, but there are lots of images of broken steel structures other than rail tracks, and cracks in the concrete of buildings other than train platforms, and of fires. By having the AI learn these types of images, we've developed technology to cause an AI to generate images of abnormal situations from input of rail tracks and railway service.
We see three major uses for the rail track metaverse. One is as a means for displaying an AR-type metaverse space at a site using smart glass or a tablet, and when a train track shows up red it will support the case for service work to be done. The second is in fully remote maintenance. It will be a means for maintenance workers working from home to look at the image of an abnormal situation overlayed with an image taken on site and to formulate a maintenance plan. The third is in training. In a metaverse you can look at the image from site of a spot requiring a repair, displayed in red, and learn in what circumstances repairs are needed. You could also simultaneously display in the metaverse space photographs and videos of maintenance methods, so trainees can learn how to do maintenance right then and there. The other thing currently being debated is developing a training kit in which generative AI deliberately creates abnormalities on rail tracks in a metaverse and new repairers have to see how many they can find. So trainees learn while having fun doing what feels like playing a computer game.
It's also possible, of course, to replicate night scenes. Service work on railways is typically undertaken from late at night to early dawn when trains aren't running, so it's really important to have had experience working on site at night. Crew can learn that it really is too dark at night to see, and learn what hidden dangers there are when doing maintenance at night.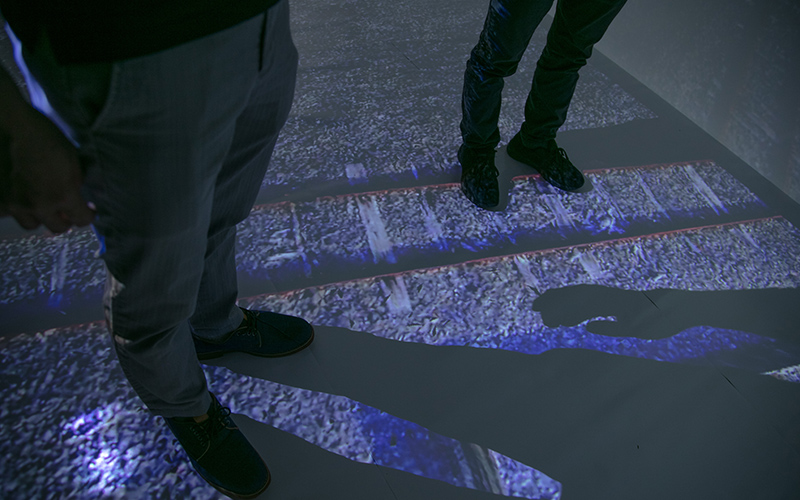 Fujiwara:A metaverse can also be replicated with HMD. HMD works if it's a metaverse for going into a single space at different locations, but if you want to be in the same physical space and share multiple bits of information as you check conditions, then a realistic space-type metaverse created with projectors is appropriate. You could say that what we're doing is kind of synthesizing a metaverse space with real people's conversations.