Software update technology tuned to the characteristics of vehicles
What differences are there between the technology to remotely update software for smartphones and vehicles?
TERAOKAThere are largely three characteristics that are particular to vehicles. The first is more stringent requirements for reliability. Vehicles may not be driven if software is not updated properly. Once they stop driving, you cannot fix them easily. So reliability, including safety and security measures, is extremely important.
IDEGUCHIThe second is the very large number of ECUs incorporated in a vehicle. In a single vehicle there are several tens to around 100 ECUs that are subject to software updates. Each of these ECUs has different characteristics. For example, the ECU for engine control does not have much memory capacity, while the ECU for autonomous driving requires a lot of memory capacity as it incorporates many logic ICs. We need to take into account such differences in characteristics.
TERAOKAThe third is the difference in how the products are used. In the case of a smartphone, it is usually turned-on around the clock and is available for communications at any time. In contrast, some people may drive vehicles only on holidays. Some vehicles may be parked in underground parking lots where communication is not possible. If it takes a long time to update software while the engine is off, the battery may go dead. Therefore, we have to shorten the time for updating software as much as possible to respond to a variety of use situations.
What did you do to address such characteristics?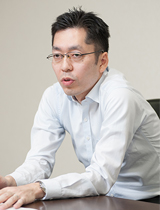 IDEGUCHIWith regards to security that matters in terms of the reliability of vehicles, we listed all possible threats to security in the entire scheme from the OTA Center to ECUs. Attackers may target whatever possible and in any possible way to cause harm. For example, they may tamper with communication data, or use fake servers to transmit wrong data to vehicles. In light of this situation, we worked to identify what are important points and to which degree we have to protect to secure safety.
TERAOKAIn doing so, we used a method developed by Hitachi researchers to analyze automotive security. The method has become one of the standard methods in Japan used as a guideline. As such, we utilized what Hitachi has fostered to date, combining its know-how on applying security technologies to information systems and its knowledge in developing in-vehicle systems. By doing so, we determined what measures should be taken on security for OTA software updates.
IDEGUCHIIn conclusion, we set the essential security functions on the vehicle gateway, which bridges external networks and in-vehicle networks, in order to protect vehicles from attacks via a variety of external channels. The idea was to first protect security on an end-to-end basis between the OTA Center and the gateway and, based on this arrangement, provide multi-layered protection to enhance vehicle security. We set our policy by identifying which functions are needed where. In actually incorporating such functions, we designed them in a specific manner by taking into account the differences in computation performance of ECUs, etc., as I mentioned with regard to the second characteristics.
TERAOKAAs for the third aspect, or shortening the time for updating software, we have employed a technology called differential update. For rewriting software, the technology sends only the differences between the new updated program and the currently installed program, instead of sending the updated program as a whole. The technology is used for mobile phones as well, but we have developed the differential update technology so that it is tailored to suit the characteristics of ECUs, such as having a limited memory capacity.
Figure 2: Threats to security for OTA Center to ECU and countermeasures